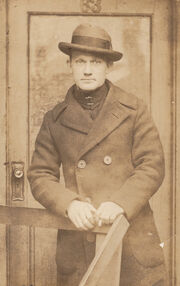 George Dewey Sanford I (1898-1965) Stereotyper for Elliot Electrotype Company, 461 8th Avenue, New York City, New York (b. August 29, 1898, Edgewater, Bergen County, New Jersey, USA - d. September 08, 1965, 3:45 pm, 165 West Pleasant Avenue, Maywood, Bergen County, New Jersey, 07607-1327, USA) Social Security Number 094016974.
George was born in 1898 to Wesley Howard Sanford (1863-?) and Margaret Kelly (1862-?). His father was born in New York and his mother was born in Ireland. Margaret was previously married to a McCarthy and had children with him.
He had a sister: Violet Sanford (1903-after1965) who married a Blodgett.
In 1910 the family was living in Jersey City, New Jersey.
On March 15, 1922 he married Grace May Freudenberg (1904-1981) in Jersey City.
George and Grace had two children: Eloise Margerite Sanford (1922- ); and George Dewey Sanford II (1925-1994). Eloise married Joseph Lawrence Reilly (1920- ) and George was a Marine who won a purple heart in World War II.
George and Grace were living: in East Rutherford in Bergen County, New Jersey for the 1930 Census; at 108 Poplar Street in Jersey City in 1946 when Grace applied for Social Security; and on West Pleasant Avenue in Maywood in 1959 when Grace's sister Clara died.
George worked for the husband of his wife's sister, Ralph Kohlman, as a printer.
He died of lymphosarcoma (cancer) on September 8, 1965.
He was buried at Cedar Lawn Memorial Park, Arlington Memorial Cemetery at 748 Schuyler Avenue in Kearny, Hudson County, New Jersey.
His funeral notice appeared in the The Record on September 09, 1965 and reads as follows:
George D. Sanford Sr., on September 8, of 156 West Pleasant Avenue, Maywood. Beloved Husband of Grace Mae. Devoted father of Mrs. Eloise Margaret Reilly and George D. Sanford Jr. Dear brother of Mrs. Violet Blogett. Funeral service at Trinka's, 439 Maywood Avenue, Maywood. Notice of time later. The family will receive friends 3 to 5 and 7 to 9.
Community content is available under
CC-BY-SA
unless otherwise noted.