George Cotton of Combermere was born circa 1564 in Combermere Abbey, Dodcott cum Wilkesley, Cheshire, England to Richard Cotton (1545-1602) and Mary Mainwaring (c1541-1578) and died circa 1647 England of unspecified causes. He married Mary Bromley (1566-1647) 1584 in England.
Biography
Cotton Family Ancestry

The Cotton Family of Combermere Abbey has an extensive family ancestry that is directly descended from Henry II of England (1133-1189), Charlemagne (747-814) and the ancient Kings of Wessex. There are also many other notable family descendants.
Combermere Abbey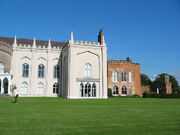 Principle residence was the Combermere Abbey located in Dodcott cum Wilkesley, English County of Cheshire. A former Christian monastery founded in 1130 AD and at one time the third largest church in Cheshire. In August 1539, the abbey and its estates, were granted to Sir George Cotton, an esquire of the body to Henry VIII of England (1491-1547). The Cotton Family kept it as a country home which they held up till 1919.
Marriage and Family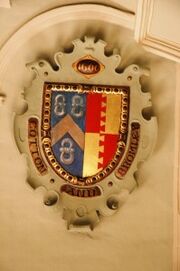 BORN: 1560 DISTINCTION: Esquire. RESIDENCE: Of Combermere Abbey PROBATE: Will dated 3 May 1647; codicil dated 17 Aug 1647. PROBATE: Named in the will of his brother-in-law, George ABELL. DIED: c 1647 MARRIED: Mary Bromley of Shifnal c. 1569 – 1647, daughter of Sir George Bromley, Justice of Chester, and Elizabeth, daughter of Sir Thomas Lacon
Children
Siblings
Residences
References
Footnotes (including sources)