George Augustus Coffin was born 17 August 1842 in Beverly, Essex County, Massachusetts to Edmund Coffin (1808-1867) and Elizabeth Wallis Moulton (1810-1898) and died 23 December 1863 Newport News, Virginia of unspecified causes.
George Augustus Coffin, son of Edmund and Elizabeth/Betsy, was born Aug. 17, 1842.
Brother of John Francis Coffin, who was born Feb. 23, 1848.
Some records show he died in Beverly, but other records show Virginia, which makes more sense.
He enlisted in Company H, Massachusetts 25th Infantry Regiment on 16 Sep 1861 and died 23 Dec 1863 at Newport News, VA. His name is included on the Soldiers' Monument in Worcester, MA.
(Sources: gravestone inscription, Vital Records of Beverly, births, DaurRegt)
Siblings
Vital Records
Worcester Gravestones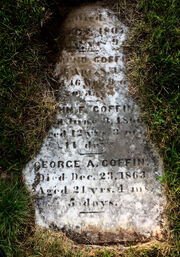 References
Genealogy of the Early Generations of the Coffin Family of New England - 1870 work by Silvanus Jenkins Macy (Author), Nathaniel Wheeler Coffin (Author), William S. Appleton (Author) - This scarce antiquarian book is a facsimile reprint of the original. Due to its age, it may contain imperfections such as marks, notations, marginalia and flawed pages. Because we believe this work is culturally important, we have made it available as part of our commitment for protecting, preserving, and promoting the world's literature in affordable, high quality, modern editions that are true to the original work.

George Coffin

- disambiguation
George Coffin at Find A Grave #121211064
Residences
Footnotes (including sources)