Frederick Forney
was born
9 October
1813
in
Pennsylvania
,
United States
to
Johann Karl Forney (1784-1841)
and
Mary Margaret Benner (1790-1863)
and died
5 November
1880
in
McPaul
,
Fremont County
,
Iowa
,
United States
of unspecified causes. He married
Clara Ann Ettleman (1819-1893)
1837 in
Missouri
. He married
Christena Ettleman (1822-1912)
31 July 1853 in
Salt Lake County
,
Utah
. Ancestors are from the
United States
,
Germany
,
Switzerland
.
Biography
Edit
Zions Camp Participant
Edit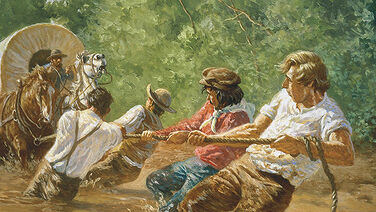 One of the most interesting episodes in the early history of LDS Church was the march of Zion's Camp (1834). The members of the Church in Missouri were being persecuted, and the Prophet Joseph made it a matter of prayer and received a revelation on February 24, 1834. The Lord instructed the Prophet to assemble at least one hundred young and middle-aged men and to go to the land of Zion, or Missouri. (See D&C 130:19–34.)
Zion's Camp, a group of approximately one hundred and fifty men, gathered at Kirtland, Ohio, in the spring of 1834 and marched to Jackson County, Missouri. By the time they reached Missouri, the camp had increased to approximately two hundred men.
"In the company of Elias Benner on the march of Zion's Camp 11 May 1834 was Frederick Forney age 21, Philip Ettleman age 43, and Henry Benner age 34. Frederick Forney was almost certainly the first member of the Forney family to become a member of the LDS Church. George Forney of whom you reference at the time was only 14 years of age when his older brother Frederic departed on the march of Zion's Camp. (Most certainly all part of the Benner-Forney family group)
"Elias Benner's wife Mary Clapper died June 15, 1830 in the same year he married Christina Cramer. Elias died October 30, 1838, killed by mob at Haun's Mill."[1]
Missouri Troubles
Edit
Frederick Forney was born in Pennsylvania, and when but a small child, his parents moved to Stark County, Ohio, where they lived nearly twenty years, going from there to Missouri with the Latter Day Saints' Church had gathered. Here in Missouri, Frederick Forney married Clara Ann Ettleman, and soon after came the trouble with the mob and the edict of Governor Boggs to evacuate Missouri, so they moved into Adams County, Illinois, where the first son, John Forney was born in 1839. The next year they moved over into Hancock County, Illinois, where the second son, Philip was born in 1841.
Participant in the march of The Mormon Battalion. This unit of the US Army served in the Mexican-American War and was the only religiously based infantry unit ever created by Presidential order. It consisted of nearly 500 men recruited exclusively from The Church of Jesus Christ of Latter-day Saints (commonly called the Mormons). They undertook the longest infantry march in U.S. military history (as of 1847) and in the process marked out and creating the first continuous wagon road to California which linked the future states of New Mexico, Arizona, and California to the United States. Most members served an initial 12 month term (Jul 1846- Jul 1847) with some members re-enlisting for an additional 12 months afterwards.
Another son, called Hiram was probably also born there, who died at an early age at or near Pacific City, in Mills County, Iowa in 1846 during the Mexican War. The family had left Illinois early in the spring, and came to Mills Coutny, Iowa, where Frederick Forney entered the service of the United States in the war with Mexico and was absent on duty when the son died. After the close of the war, sometime in the early 'fifties, he moved his family to Utah, near Salt Lake city, and while in Utah he was married a second time to a sister of his first wife, Mrs. Christena Huston, a widow. Four children were born in Utah, as his family record will show.
Return to Iowa
Edit
The family returned to Fremont County, Iowa in the latter part of the 'fifties and lived near the Missouri River west of McPaul, Iowa for many years, where they engaged in farming and also operated a sawmill, and the Forney boys of this family were all good mechanics and most of them were expert sawyers in the making lumber and framing timbers.
1880 Fire
Edit
Frederick Forney came to his death in May 11, 1880 at 6 p.m. from exhaustion and being overheated while fighting a fire that had escaped from his control and threatened to do some damage. some of his sons came to his aid and just as they had the fire under control he expired at the age of 66 years, 7 months, and 2 days.
Marriage and Family
Edit
Children
Siblings
Offspring of Johann Karl Forney and Mary Margaret Benner (1790-1863)
Name
Birth
Death
Joined with


Catherine Forney (1810-1848)


Barbara Forney (1811-1904)


Frederick Forney (1813-1880)
9 October 1813 Pennsylvania, United States
5 November 1880 McPaul, Fremont County, Iowa, United States
Clara Ann Ettleman (1819-1893)
Christena Ettleman (1822-1912)


Jacob Forney (1816-1910)


Elizabeth Forney (1818-1845)


George Forney (1820-1880)
25 September 1820 Canton, Stark County, Ohio, United States
16 April 1880 Thurman, Fremont County, Iowa, United States
Catherine Study (1821-1919)


Sarah Forney (1823-1921)


Mary Ann Forney (1824-1879)


Susan Forney (1826-1898)


Henry Forney (1829-1910)
Vital Records
Edit
See Also
Edit
References
Edit
Community content is available under
CC-BY-SA
unless otherwise noted.