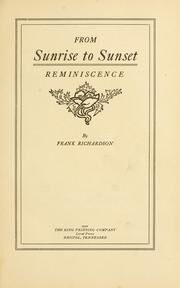 Born: 14 February 1831 Jacksboro, Tennessee
Died: 4 April 1912
Burial: Laban Sharp Cemetery, LaFollette, Campbell Co, Tennessee
Wrote From Sunrise to Sunset Reminiscence (an autobiography)
Father: William Richardson (1799- )
Mother: Sarah McHenry (1809- )
Franklin's father and grandfather were named William. His grandfather lived at Clark place on the creek below Cedarville in Washington Co, VA. His mother was the daughter of William McHenry and was from Claiborne County, TN. Her mother was Judith Poston from Broad Ford, Smythe Co.,VA. Paternal grandmother's maiden name was Crabtree.[1]
Mary Peterson (____-1856)
13 January 1853 Campbell Co, Tennessee[2]
♀Sarah L Richardson (1856-1944)
Elizabeth Sharp (1831-1894)
♀Sue Em Richarson (1859-1935)
♀Mary Flora Richardson (1861-1911)
♂Laban Sharp Richardson (1863-1955)
♂Frank Winton Richardson (1865-1916)
♂Henry Wier Richardson (1866-1929)
♀Leila Lizzie Richardson (1878-1959)
16 March 1897
Community content is available under
CC-BY-SA
unless otherwise noted.