I sent a letter to the Newsletter of the Pilgrim Edward Doty Society alerting members to the information I have been entering on Familypedia. I was pleased to see my letter published in full in the March newsletter. I'm hoping to recruit a little help from my fellow Doty Society members. That's one reason I'm so eager to get forms working. DennisDoty 13:28, April 3, 2010 (UTC)
Great work, Dennis. — Robin Patterson (Talk) 01:49, April 4, 2010 (UTC)
Promotion on Central Wikia
[
]
Main page - maybe
[
]
Copying message sent today to admins and possibly others:
The "here" page says:
Do you have an awesome wiki you would like everyone to know about when they visit Wikia? Well now is your chance to tell us all about it!
You have until June 29 to let us know why your community should be featured on the main page of www.wikia.com. Please use the space below to tell us, in your most creative voice, why your wiki deserves to be on Wikia.com for two weeks in July. In 250 words or less, highlight why your wiki's content, design, growth and community make it special.
Wikis of all sizes and topics are encouraged to enter. Please remember to be a good Wikian, and don't leave any discouraging comments about other wikis. At 5:00pm Pacific time on June 29th, we will close the contest to entries. All entries must be submitted here in order to be considered. The winner will be announced in early July.
So chat with your community about your entry, then submit it here. Remember to provide links to examples you use, and while you wait to hear who the winner is, keep improving your wiki! We look forward to hearing lots of funny, interesting tidbits about all of the amazing wikis on Wikia!
See the "latest Wikia features" page mentioned above, including the comments; it refers to Help:Galleries and slideshows, which is presumably an improvement on the slideshow we already have.
Let's assemble a case, folks! - see /Draft submission to Wikia/, with discussion of it on the same page below it.
— Robin Patterson (Talk) 01:24, June 16, 2010 (UTC)
No response there. — Robin Patterson (Talk) 08:39, November 1, 2010 (UTC)
Wikis wanting editors
[
]
I've just added us to a subpage with a name like the above: "Familypedia is one of Wikia's earliest sites and is in the top half dozen by size - over 140,000 articles. But it would be better with more editors. We want to see a page about every person who has ever lived (and we have easy ways to link them to parents, children, and siblings). Nearly everyone reading this could contribute a short article about one of his or her ancestors or deceased uncles or aunts. Start on w:c:family: today! -- Robin Patterson (Talk) 02:20, September 5, 2013 (UTC)"
Hub:Big wikis
[
]
I have been updating our number of articles every thousand or so. I have its "Edit" page in my Bookmarks. I hope someone will continue that if I ever become inactive. Even though changing a digit or two is a minor edit, I don't mark it as such - so that more people will notice the edit summary. -- Robin Patterson (Talk) 03:55, May 10, 2018 (UTC)
Promotion on the SMW website homepage
[
]
Maybe this one will get the necessary help, not actually needing much: screenshots, anyone? See the last item on Familypedia:Promotion of this site. It might manage to attract an expert with time to investigate our problems. — Robin Patterson (Talk) 08:39, November 1, 2010 (UTC)
Our information page has had two editors working on it. It still needs a screenshot and maybe more precision in the numbers of templates and categories. Maybe other editors can think of paragraphs to add or improve. PREFERABLY IN THE NEXT WEEK so that we may have a chance of being chosen as the wiki of the month for December on what is one of the main SMW info websites. — Robin Patterson (Talk) 13:04, November 15, 2010 (UTC)
Chosen for January 2011
[
]
I'm delighted to advise that Familypedia has been chosen for January 2011. See http://semantic-mediawiki.org/wiki/Familypedia
We need screenshots. Has anyone any from the days (e.g. October) when the site was working well? Older shots would do if they show the SMW-based infoboxes and minibiography. If not, can we get the minibiography working tolerably well so as to display in a new screenshot?
Please upload here first so that we have a record of them in addition to what goes on the SMW site.
— Robin Patterson (Talk) 01:19, December 2, 2010 (UTC)
At the moment, all publicity is bad. The site is a complete mess. rtol 23:25, December 2, 2010 (UTC)
Thurstan and others seem to have made some useful patches recently. So most of the site is not a mess. Great work! — Robin Patterson (Talk) 01:40, December 27, 2010 (UTC)
Screenshots urgently needed
[
]
I can't convert screenshot bitmaps into suitable files for uploading to a wiki, on my system - as far as I know. Familypedia IS the wiki of the month as noted above, and our article there really needs screenshots. — Robin Patterson (Talk) 01:40, December 27, 2010 (UTC)

Thanks to a suggestion from User:DuncanNZ, I've successfully installed "GIMP" (open-source GNU Image Manipulation Program) and (after restoring Phlox's lovely background mosaic) produced some png files: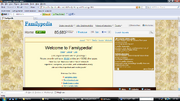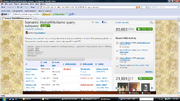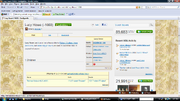 They show a range of aspects of the site, and will go on the SMW site soon (as large as convenient) unless we have more produced here. (Bill Willis offered to help too.)
— Robin Patterson (Talk) 04:15, December 28, 2010 (UTC)
Detailed reviews by Dick Eastman
[
]
The world's most popular genealogy newsletter gave us 17 paragraphs of insightful review on Remembrance Day 2010. The review was republished with his permission for a genealogy group on multiply.com (which is how I learned about it). In the "best" 24-hour period following, we got 50 new registered users, the same number as for the previous 30 days. Unfortunately, Wikia management decided (without any notice to us) to cut off our SMW for 3 hours (because of server overload: to patch something) and have not yet restored it to how it was. By the time we got Wikia staff to tell us what was going on, we may have lost 90% of those new people. — Robin Patterson (Talk) 13:04, November 15, 2010 (UTC)
In 2014 Dick did it again with an updated 17 paragraphs. See https://blog.eogn.com/2014/09/30/familypedia-the-biggest-genealogy-site-you-probably-never-heard-of/.
And Familytree.com copied some of his material for its own undated positive review - http://www.familytree.com/blog/familypedia/
HubPages page updated
[
]
Please have a look at the latest version and click the appropriate buttons in the polls and tell me what improvements it could do with. --- Robin Patterson (Talk to me) 10:12, March 31, 2011 (UTC)
Squidoo has now been merged into HubPages. - Robin Patterson (Talk) 01:22, August 1, 2016 (UTC)
I have checked and updated the above link and republished the updated article. Not quite mastered the different formatting procedures. Up-to-date comments on it might get it ranking higher on HubPages. ----- Robin Patterson (Talk) 10:18, February 25, 2019 (UTC).
Facebook pages
[
]
Could use a few more brief responses from some enthusiasts, so that when web surfers find it they will see that it's not entirely a one-man show. (Thanks, Bryce!)
-- Robin Patterson (Talk) 14:05, April 12, 2011 (UTC)
Now added a link to it from our main page, as recommended by Wikia on http://community.wikia.com/wiki/Putting_Twitter_and_Facebook_feeds_on_mainpages
-- Robin Patterson (Talk) 02:02, September 15, 2011 (UTC)
I've just messaged most of the people who had "Liked" one of the pages, inviting them to start contributing if they hadn't already. -- Robin Patterson (Talk) 02:38, January 12, 2013 (UTC)
April 2013 profile of total "likes"
[
]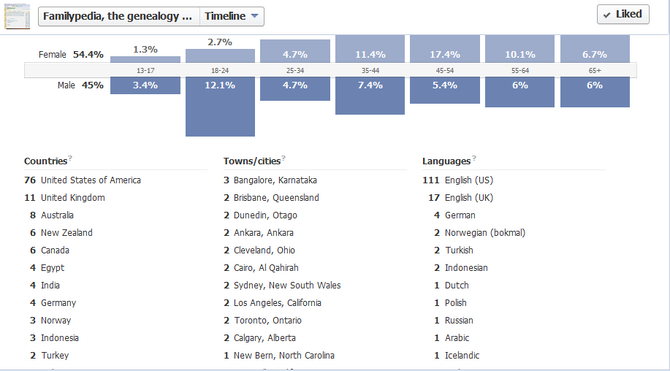 The remaining countries were Malaysia (2), Philippines (2), Serbia, Cambodia, Saudi Arabia, South Africa, Belgium, Afghanistan, Poland. Remaining languages were Serbian, Chinese (Taiwan), French, Portuguese (Brazil), Spanish, and Malay. -- Robin Patterson (Talk) 05:46, April 12, 2013 (UTC)
Anyone interested in helping to administer the page? https://apps.facebook.com/Familypedia-the-genealogy-and-family-history-wiki-435715435592/settings/?tab=admin_roles shows the current admins, of whom only three are in any way currently active on Familypedia. Please?
Anyone can post to the page. I'm not sure whether everyone can create an "Event" for it, but we recently had ten people subscribing to the Events page (after I created an event called "200,000 articles"), so maybe we should get more involved!
-- Robin Patterson (Talk) 01:19, August 1, 2016 (UTC)
More invitations
[
]
I've sent invitations (each with a personal touch where appropriate) to the 23 people who recently (i.e. less than 12 months ago) "liked" the page. Basic text was "You "liked" Familypedia's page on Facebook. I hope you have visited Familypedia.wikia.com and can record some of your family history on it. ". -- Robin Patterson (Talk) 01:43, May 9, 2018 (UTC)
2021 offer from FB
[
]
I've just received an email:
Hi Robin,
I'm Gemma, a member of the Facebook Marketing Expert team. I wanted to let you know that Familypedia, the genealogy and family history wiki qualifies for a free consultation with one of our experts where we'll focus on how you can:
Achieve your goals- we'll learn about your business and provide tailored resources to help you use your Page to meet your goals.
Find more customers- we can help you find your next customer amongst the 2.6 billion people who use Facebook each month1.
There's no preparation required. Click to connect with us at any time during business hours, Monday to Friday.
Best,
Gemma T.
Facebook Marketing Experts
Gemma T.
Facebook Marketing Expert
Learn more about our programme
[Image]
Disclaimer: Participation in the Marketing Expert programme is available to the recipient of this email by invitation only and is non-transferable.
1. Facebook earnings call, Q1 2020

Should I bother responding? Have other admins received similar invitations? What's it really worth to us? How many current users are here because of seeing our FB page? --- Robin Patterson (Talk) 02:36, 25 August 2021 (UTC)
Twitter
[
]
OK, now that we are firmly established on Facebook, how about Twitter? See MediaWiki talk:TwitterWidget. -- Robin Patterson (Talk) 02:02, September 15, 2011 (UTC)

Well, how about it? -- Robin Patterson (Talk) 12:39, June 29, 2016 (UTC)
SMW Community
[
]
I've just updated our page on Referata, adding a bit to the description and adding lots of extensions copied from Special:Version. -- Robin Patterson (Talk) 14:11, December 31, 2012 (UTC)
Wikia Corporate site
[
]
The invitation in 2010 (mentioned above) seems not to have been repeated, but http://www.wikia.com/Wikia is currently promoting lots of wikis with pretty pictures. I don't know whether we are included, but I suspect that we are not and that we may have to submit our own picture in order to be shown.
For the "Lifestyle" subpage, I've written a wee blurb for the "Get Promoted" section. It seems we are number 3 in that class:
"Top Lifestyle Wikis
"Here are the top 10 Lifestyle wikis based on wiki activity, breadth of content and awesomeness.
Logopedia
Recipes Wiki
Familypedia
... "
However, if your mouse hovers over the "Lifestyle" main menu you see 16 wikis named, not including Familypedia, which I think is a poor show. Anyone feel like taking it up with Wikia?
-- Robin Patterson (Talk) 14:11, December 31, 2012 (UTC)
2019 - new genealogy search engine
[
]
As soon as Dick Eastman alerted us to Kincrawler.com I checked it out, found that the 3 million pages it had indexed did not cover Familypedia, and wrote to the "admin". Within a day he had started indexing Familypedia and plans to cover it all. In his latest email he concludes with "I will definitely crawl Familypedia. It is a great resource full of information and it has lot's of names! That's what I like to see because I don't like it when my visitors get zero results". ----- Robin Patterson (Talk) 00:40, February 25, 2019 (UTC)