Fenrich von Gjurgjenovac (also Fenrich de Gjurgjenovac) is a surname of a prominent patrician family from Susine-Gjurgjenovac, Kingdom of Hungary-Croatia.[1] The family originated in the 17th century Lower Saxony (Germany)[2][3] and moved to Vas, Hugary, from whence they finally came to eastern Croatia[4][5].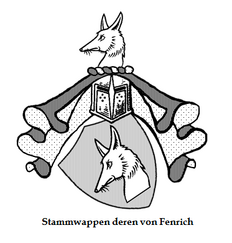 Local importance of the family
Edit
According to church records from nearby town Nasice, the Fenrich family was one of the founders of Gjurgjenovac (present day Djurdjenovac), an industrial town in eastern Croatia.[6][7]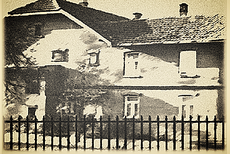 About 1910 the family started the construction of a manor house in Djurdjenovac, known as "The Fenrich-Kremer House", commonly referred to as "The Red Villa".[8] This house stayed their primary residence until 1945. Fenrichs were also indirectly implicated in the process of installation of local municipial government in Djurdjenovac, together with other distinguished members of the local aristocracy.[9]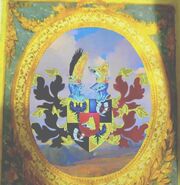 Family today
Edit
In the past century, relatively most of Croatian residents bearing this family name were born in Nasice area and in Nasice. About 30 people with family name Fenrich live in Croatia today, mostly in Zagreb and Djurdjenovac.[10]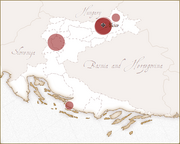 Individuals with that surname but no separate page
Edit
Heinrich Konrad v. Fenrich (1813 – 1873)
Johann v. Fenrich (1849 – 1908)
Jakob v. Fenrich (1867 – 1925)
Dragutin pl. Fenrich (1882 – 1914)
Johann Fenrich v. Gjurgjenovac (1873 – 1939)
Anna Fenrich v. Gjurgjenovac (1887 – 1931)
Matthias Leopold Fenrich v. Gjurgjenovac (1920 – 1985)
Franjo Fenrich v. Gjurgjenovac (1941 – 1994)
Alois Fenrich v. Gjurgjenovac (1945 – 2010)
Franz Fenrich v. Gjurjgenovac (1922 – 1987)
Johann Fenrich v. Gjurgjenovac (1904 – 1989)
Maria Fenrich v. Gjurgjenovac (1928 – 2002)
Christian v. Fenrich (1851 – 1912)
Andreas (Andras) v. Fenrich (1856 – 1903)
Ludwig v. Fenrich (1897 – 1969)
Friedrich Achaz v. Fenrich (1816 – 1892)
Karl August v. Fenrich (1846 – 1911)
References
Edit
(other relevant pages on Familypedia)
External links
Edit
(relevant pages on other sites)
Community content is available under
CC-BY-SA
unless otherwise noted.