New Users Guide to the Semantic MediaWiki (SMW) tools in Familypedia
Familypedia is fast becoming the world's best digital encyclopedia for all things about your family history. The most potent tools are the Person data templates: "Showfacts person" and Showfacts children" that should be found in every person article that has been created with [[Form:Person]a. Those drive some powerful data base engines found in no other genealogy wiki today.
See Also : Familypedia:About / Help:Tutorial /
Greeting
[
]
I'm (User:MainTour) another user here at Familypedia. You may be interested in my collection of Tips and Tricks for using this website: Familypedia Introduction to Semantic Media Wiki Tools.
Enjoy your experience - we appreciate your service to preserving family histories.
Starting Person Articles
[
]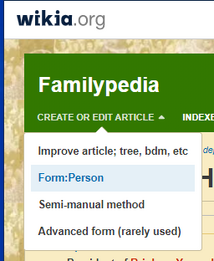 It is best to use the "Person Form" on Familypedia to start your person article.
Another way easy way to call this is from the child or spouse info box link in an existing person article.
Naming Person Article
[
]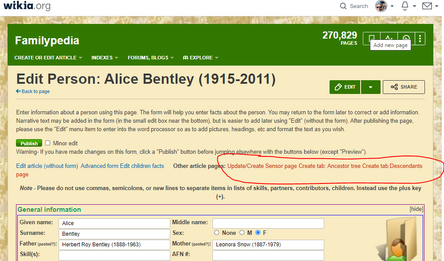 It is preferred to use the "birth name" with birth year/death year for an individual.
Supporting Articles
[
]
We welcome supporting articles about places, events and organizations that enrich the story of our ancestors. Most of these can be efficiently started by copying a Wikipedia article. See Help:Copying from Wikipedia. Examples include:
Semantic Media Tools
[
]
These tools articles use the power of the SMW database to greatly enrich your family history and significantly aid in future research.
Some key SMW commands to include on every person article: (All inside double brackets)
Showfacts person
showfacts biography
showfacts children
Siblings
References
[
]
Including authoritative references and documentation are an important feature of our articles.
A couple of unique reference codes include:
Wikipedia Notable People :
wikipedia:en:John Taylor

John Taylor at Find A Grave

Lady Anne Churchill at thePeerage

John Winston Spencer-Churchill, 7th Duke of Marlborough at Genealogics

Categories
[
]
Adding Categories are powerful wiki data base tool of their own. Every article should have one or more categories: (Wikipedia articles now feature abundant categories and are growing fast.)
But note that Familypedia person articles auto-generate some key categories:
Category: Taylor (surname) : Surname categories
Category: Born in 1800 : Birth Year
Category: Died in 1880 : Death Year
Questions?
[
]
Please submit your "getting started" questions on the talk page - and remember to sign it with using four tildes "~"
For More Help See:
[
]