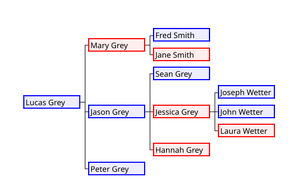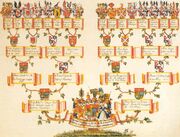 A family tree is generally the totality of 'one's ancestors represented as a tree structure, or more specifically, a chart used in genealogy. The image of the tree probably originated with one in medieval art of the Tree of Jesse, used to illustrate the Genealogy of Jesus in terms of a prophecy of Isaiah (Isaiah, 11, 1). Possibly the first non-Biblical use, and the first to show full family relationships rather than a purely patrilineal scheme, was several family trees of the classical gods in Boccaccio's Genealogia deorum gentilium (On the Genealogy of the Gods of the Gentiles), whose first version dates to 1360. From the earliest manuscript copies the trees are included, and they were probably part of the original work.
Mama
Grandpa
Dad
Mom
Uncle Mike
Aunt Lisa
ME
Betsy

Large Family Trees:
Network maker
Other wiki-based:
Other tools:
Miscellaneous:
Community content is available under
CC-BY-SA
unless otherwise noted.