Ephraim Child
was born
1599
in
England
and died
13 February
1663
in
Watertown
,
Middlesex County
,
Massachusetts
of unspecified causes. He married
Mary Sadler (1597-1667)
1625 in
Nayland
,
Suffolk
,
England
.
",42.371" can not be assigned to a declared number type with value 42.371.
",-71.182" can not be assigned to a declared number type with value -71.183.
Biography
1630 Winshiop Fleet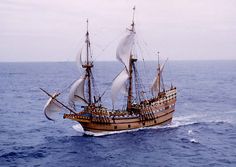 He was a passenger on the English Winthrop Fleet, which sailed under direction from Gov. John Winthrop from England in 1630 bound for to settle Massachusetts Bay Colony, landing first at Salem. The ship arrived safe at Massachusetts Bay. But nearly 200 of the 600 passengers onboard died in the first year there.
Watertown Founders Monument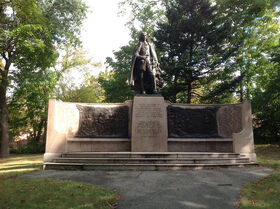 He is listed on Watertown Founders Monument, commemorating the first settlers of Watertown, Massachusetts. The town was first known as Saltonstall Plantation, one of the earliest of the Massachusetts Bay Colony settlements. Founded in early 1630 by a group of settlers led by Richard Saltonstall and George Phillips, it was officially incorporated that same year. The alternate spelling "Waterton" is seen in some early documents.
Marriage & Family
Siblings
References
Residences
Footnotes (including sources)
Contributors
Community content is available under
CC-BY-SA
unless otherwise noted.