Elizabeth Warren Knapp was born July 1629 in Nayland, Suffolk, England, United Kingdom to John Warren (1585-1667) and Margaret Bayly (1587-1662) . She married James Knapp (1627-1657) 1650 .
Biography
Migration to New England 1630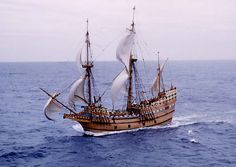 As a one year old child she was a passenger with her parents on the English Winthrop Fleet, which sailed under direction from Gov. John Winthrop from England in 1630 bound for to settle Massachusetts Bay Colony, landing first at Salem. The ship arrived safe at Massachusetts Bay. But nearly 200 of the 600 passengers onboard died in the first year there.
Children
Siblings
Residences
Footnotes (including sources)
Community content is available under
CC-BY-SA
unless otherwise noted.