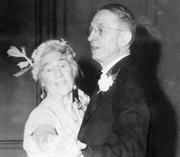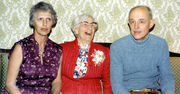 Elizabeth Dempster MacIlwraith (1890-1987) Immigrant from Scotland to USA (b. December 31, 1890, 9:00 pm, 24 Harbour Street, Dundonald Parish, Irvine Distict, Ayre County, Scotland - d. October 13, 1987, Princeton, Mercer County, New Jersey, 08648, USA) Social Security Number 119361022.
Parents
[
]
James Alexander MacIlwraith I (c1870-?), a cabinet maker
Susan Campbell Boyd (c1870-?)
Siblings
[
]
Mary Beggs MacIlwraith (1892-1966)

Jeanette Ferguson MacIlwraith (1896-?) aka Jennie MacIlwraith
James Alexander MacIlwraith II (1901-?)
Margaret Steel MacIlwraith (1903-?)
Edith Curl MacIlwraith (1905-?)

William Gray MacIlwraith (1909-1979)
Marriage
[
]
On June 29, 1918 Elizabeth married Charles Edward Ensko I (1880-1952) at the Church of the Intercession in Manhattan, New York City in an Episcopal ceremony. She was living at 253 West 123rd Street in Manhattan at the time. The witnesses were her sister, Jennie, and Charles' brother William Ensko. The certificate was number "19630".
Children
[
]
Family bible
[
]
On her 81st birthday she was presented with a bible by her sister, Edith Curl MacIlwraith and the bible is still with the family.
Death
[
]
She died in 1987 in Princeton, Mercer County, New Jersey while living at the home of her daughter, Eloise Ensko II (1925-1993).
External links
[
]
Images
[
]