Elizabeth Daniels Fanning was born 1633 in England to Robert Daniels (c1592-1655) and Elizabeth Morse (1605-1643) and died 22 January 1722 Watertown, Middlesex County, Massachusetts of unspecified causes. She married Thomas Fanning (1626-1685) 17 May 1655 in Watertown, Middlesex County, Massachusetts.
Biography
1635 Voyage to America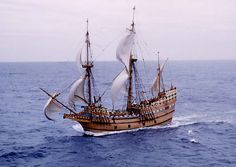 She was a passenger on the English ship Increase, which sailed from London in April, 1635, bound for New England. The ship arrived safe at Massachusetts Bay. Passenger list information was transcribed in the 19th century by Michael Tepper from records found in London, the Public Rolls Office, formerly at Carleton Ride.
Elizabeth Daniels is listed on the ship's manifest as a two-year-old minor, immediately after her grandparents, Samuel Morse (1581-1654) and Elizabeth Jasper (1579-1654) and her young uncle, Joseph Morse (1613-1652). Her parents and two siblings sailed to America the following year and this family was reunited the following year in Watertown, Massachusetts.
Marriage & Family
Children
Siblings
Research Notes
References
Residences
Footnotes (including sources)
Community content is available under
CC-BY-SA
unless otherwise noted.