Wikipedia
Elsabeth of Austria
was born
1436
in
Vienna
,
Austria
to
Albrecht II von Habsburg (1397-1439)
and
Elisabeth von Luxemburg (1409-1442)
and died
30 August
1505
in
Krakow
,
Poland
of unspecified causes. Notable ancestors include
Charlemagne (747-814)
,
Alfred the Great (849-899)
,
William I of England (1027-1087)
,
Hugh Capet (c940-996)
,
Henry II of England (1133-1189)
. Ancestors are from
Austria
,
France
,
Bohemia
, the
United Kingdom
,
Germany
,
Belgium
,
Slovakia
,
Slovenia
,
Switzerland
,
Russia
,
Ukraine
,
Poland
, the
Czech Republic
,
Belarus
,
Italy
,
Hungary
, the
Netherlands
,
Spain
,
Lithuania
,
Turkey
, the
Byzantine Empire
,
Sweden
.
",48.208" can not be assigned to a declared number type with value 48.209.
",16.373" can not be assigned to a declared number type with value 16.373.
",19.937" can not be assigned to a declared number type with value 19.938.

Elisabeth of Austria (1437 – 30 August 1505), (in Polish Elżbieta Rakuszanka, Hungarian: Erzsébet), was a Polish-Lithuanian queen. In Polish, she is known as Elżbieta Rakuszanka and Elżbieta Austriaczka, both names meaning Elisabeth of Austria, or Elżbieta Habsburżanka, meaning Elisabeth of Habsburg.
Biography
Elisabeth was the daughter of Albert II of Germany (1397–1439) and his wife Elisabeth of Bohemia (1409–42). She married on 10 March 1454 King Casimir IV of Poland (Kazimierz Jagellon, 1427–92), monarch of Poland and Lithuania. Four of her sons became king, thus she is also called "mother of the Jagiellons" (or "mother of kings").
After the 1457 childless death of Elisabeth's brother, king Ladislas Posthumous, she and her family started to advance their claims to the thrones of Bohemia and Hungary. Ultimately, her eldest son became elected to both monarchies.
Her younger sons, in turn, became monarchs of Poland and Lithuania.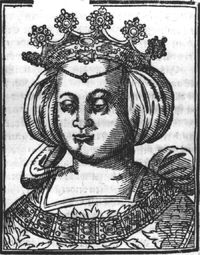 Upon the death of her brother Ladislas, his remaining heiresses shared the inherited rights in a way which put all their mother's rights to Polish principalities to Elisabeth and her children. Elisabeth's said mother, also named Elisabeth, was the only child of late Emperor Sigismund, himself the eldest son and heir of her mother, yet one Elisabeth, a daughter of ducal Pomeranian dynasty and the ultimate heiress of her mother, Elisabeth of Poland, the eldest daughter of Casimir III of Poland who also had inherited the principality of Kujavia (the elder branch of Masovia-Sandomir) and some rights to successions in parts of Greater Poland and Silesian principalities (Wladyslaw the Short's wife was from Poznan branch and mother from Wroclaw and Legnica branch). Since 1431, no other legitimate descendants of Casimir III survived than Elisabeth of Pomerania's. This was the way some ancient Piast estate property passed to the Jagiellons.
In 1467 she renounced her claim to the Duchy of Luxembourg to Charles the Bold, Duke of Burgundy, whose father had bought the territory in 1443 from Elisabeth, Duchess of Luxembourg.
Children
Offspring of Casimir IV of Poland and Elisabeth von Habsburg (1437-1505)
Name
Birth
Death
Joined with


Wladyslaw II Jagiellon (1456-1516)
1 March 1456 Kraków
13 March 1516 Buda
Barbara von Brandenburg (1464-1515)
Beatrix di Napoli (1457-1508)
Anne de Foix (1484-1506)


Hedwig Jagiellon (1457-1502)
21 September 1457 Kraków, Poland
18 February 1502 Burghausen, Bavaria, Germany
Georg von Bayern-Landshut (1455-1503)


Kasimir Jagiellon (1458-1484)


Jan I Olbracht Jagiellon (1459-1501)
27 December 1459
17 June 1501


Alexander Jagiellon (1461-1506)
5 August 1461 Kraków, Poland
19 August 1506 Vilnius, Lithuania
Elena Ivanovna of Moscow (1476-1513)


Sofia of Poland (1464-1512)
6 May 1464 Kraków, Poland
5 October 1512 Ansbach, Bavaria, Germany
Friedrich II. von Brandenburg-Ansbach-Kulmbach (1460-1536)


Elisabeth Jagiellon (1465-1466)


Sigismund Jagiellon (1467-1548)
1 January 1467
1 April 1548
Barbara Zápolya (1495-1515)
Bona Sforza (1494-1557)
Katarzyna Telniczenka (-1528)


Friedrich Jagiellon (1468-1503)


Elisabeth Jagiellon (1472-1480)


Anna Jagiellon (1476-1503)
1476
1503
Bogislaw X. von Pommern (1454-1523)


Barbara of Poland (1478-1534)
15 July 1478 Sandomierz, Poland
15 February 1534 Leipzig, Germany
Georg der Bärtige von Sachsen (1471-1539)


Elisabeth Jagiellon (1483-1517)
Casimir and Elisabeth had the following children:
Vladislaus II of Bohemia and Hungary (1456–1516), who became elected to thrones earlier held by Elisabeth's parents (Wladyslaw, Vladislav, Ulaszlo)
Hedwig (1457–1502). Duchess of Bavaria in Landshut, wife of Duke George.
Saint Casimir (Kazimierz) (1458–84)
John I Albert of Poland (Jan Olbracht, Jan Wojciech) (1459–1501)
Alexander (1461–1506) of Lithuania, then also of Poland
Sophia (Zofia) (1464–1512). Margravine of Brandenburg in Ansbach, wife of Frederick I, Margrave of Brandenburg-Ansbach and mother of Albert of Prussia
Elisabeth (Elżbieta) (1465–66)
Sigismund I of Poland (Zygmunt) (1467–1548)
Frederick (Fryderyk) (1468–1503) cardinal-archbishop of Gniezno.
Elisabeth (Elżbieta II) (1472–80)
Anna (1476–1503). Duchess of Pomerania, wife of Duke Bogislas X.
Barbara (1478–1534). Duchess of Sacony, wife of George, Duke of Saxony.
Elisabeth (Elżbieta III)(1482–1517). Duchess of Legnica in Silesia, wife of Duke Frederick II.
See also

Wikimedia Commons has media related to:
Residences
Footnotes (including sources)
Community content is available under
CC-BY-SA
unless otherwise noted.