Elijah Bent was born 15 August 1713 in Sudbury, Middlesex County, Massachusetts to Hopestill Bent (1672-1725) and Elizabeth Brown (1677-1750) and died 2 May 1797 Barre, Worcester County, Massachusetts of unspecified causes. He married Susannah Stone (1720-1801) 1733 in Sudbury, Middlesex County, Massachusetts.
Marriage and Family
Elijah Bent (1739-)
Dorcas Bent (1741-)
Silas Bent (1744-1818)
Susannah Bent (1748-)
Joel Bent (1750-1812) - Veteran of American Revolutionary War, captain in the 7th Massachusetts Regiment.
Stephan Bent (1752-1822)
Rufus Bent (1755-1821)
Abigail Bent (1757-)
Nathan Bent (1760-1833)
Children
Siblings
Vital Records
Lincoln Cemetery Gravestone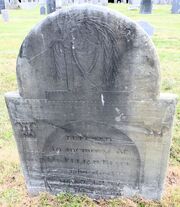 Residences
Footnotes (including sources)
Community content is available under
CC-BY-SA
unless otherwise noted.