Edward Winslow, Sr was born 17 October 1560 in Droitwich Spa, Worcestershire, England to Kenelm Winslow (1534-1607) and Katherine Buck (1532-1607) and died 1620 Droitwich Spa, Worcestershire, England of unspecified causes. He married Eleanor Pelham (1564-1594) 1583 in London, England. He married Magdelene Oliver (1566-1631) 4 November 1594 in St Brides Church, Fleetstreet, London, England.
Biography
Son of salt extractor Kenelm Winslow 1533-1620 and Katherine Buck 1532-1607. Grandson of William Winslow 1510-1533, Kenelm Bucke 1504-1550 and Ellen Neville 1508-1547. Direct descendant of John of Gaunt and Katherine de Roet.
His father is reportedly buried at St. Andrews, Kempsey, Worcestershire, his mother's burial remains unknown.
Marriage & Family
Edward and Gilbert were Mayflower passengers in 1620.
John came to Plymouth in 1621 on the ship "Fortune".
Kenelm came to Plymouth with his brother, Josiah, in the ship White Angell which arrived in what is now Saco, ME, July of 1631. He later moved to Marshfield in 1641. He is said to have died and is buried in Salem, MA in 1672.
Gilbert returned to England in 1627 and died there before 1650.
1st Marriage: Eleanor Pelham
Husband of Eleanor Pelham 1564-1594, daughter of Herbert and Catherine Thatcher, married about 1583. Father of:
Richard Winslow 1585-1659
Margaret, Mrs Robert Hicks 1589-1666
2nd Marriage: Magdelene Oliver
Secondly, husband of Magdelene Oliver, daughter of Gilbert and Margery Young, married Nov 4, 1594 at St Brides Church on Fleetstreet, London England. Five sons would travel to America in early 1620s.
Edward Winslow (1595-1655) - 1620 immigrant to Plymouth Colony on the

''Mayflower''

- Leiden separatist and prominent leader of the pilgrims.
John Winslow (1597-1674) - 1621 immigrant to Plymouth Colony on the Fortune

Eleanor Winslow (1598-1672)

Kenelm Winslow (1599-1672) = also immigrated to America in early 1620's.
Gilbert Winslow (1600-1663) 1620 immigrant to Plymouth Colony on the Mayflower -

Elizabeth Winslow (1602-1605)

Magdelene Winslow (1604-1693)

Josias Winslow (1606-1674)= 1631 immigrant to Plymouth Colony, town clerk for Marshfield, Massachusetts.

Mary Magdelene Winslow (1610-1687)
Children
Offspring of Edward Winslow, Sr and

Eleanor Pelham (1564-1594)

Name
Birth
Death
Joined with

Richard Winslow (1585-1659)




Margaret Winslow (1589-1666)
Offspring of Edward Winslow, Sr and Magdelene Oliver (1566-1631)
Name
Birth
Death
Joined with
Edward Winslow (1595-1655)
18 October 1595 Droitwich Spa, Worcestershire, England, United Kingdom
8 May 1655

At Sea Near

, Jamaica
Elizabeth Barker (1597-1621) Elizabeth Barker (1597-1621) Susanna White (1593-1680)

John Winslow (1597-1674)
26 April 1597 Worcestershire, England
1674 Boston, Suffolk County, Massachusetts
Mary Chilton (c1605-1679)


Eleanor Winslow (1598-1672)



Kenelm Winslow (1599-1672)
29 April 1599 Droitwich Spa, Worcestershire, England
12 September 1672 Salem, Essex County, Massachusetts
Eleanor Newton (1598-1681)

Gilbert Winslow (1600-1663)
29 October 1600 Baptism at St Peters Church, Droitwich, Shropshire, England, United Kingdom
11 October 1631

Ludlow

, Shropshire, England, United Kingdom



Elizabeth Winslow (1602-1605)




Magdelene Winslow (1604-1693)



Josias Winslow (1606-1674)
11 February 1606 Droitwich, Worcestershire, England, United Kingdom
1 December 1674 Marshfield, Plymouth County, Massachusetts, United States
Margaret Bourne (1615-1683)


Mary Magdelene Winslow (1610-1687)
Siblings
References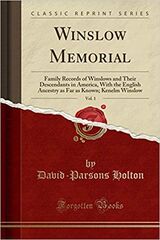 Winslow Memorial, Vol. 1 : Family Records of Winslows and Their Descendants in America, With the English Ancestry as Far as Known; Winslow Family(Classic Reprint) - Tracing family roots of the descendants these early Plymouth Colony settlers back to England.

Winslow in Worcestershire

- first families history
Edward Winslow - FindAGrave Memorial #51459818
Edward Winslow - disambiguation page
Residences
Footnotes (including sources)