Edward Thompson was born 9999 in England and died 4 December 1620 Onboard the Mayflower in Provincetown Harbor, Provincetown Harbor, Massachusetts of unspecified causes.
Research Notes
[
]
Edward Thompson came on the Mayflower in the care of William White (1570-1621) and his family. He did not sign the Mayflower Compact, suggesting he was under the age of 18 or 21.
He died on 4 December 1620, making him the first Mayflower passenger to die after the ship had anchored off the tip of Cape Cod, and while the first explorations of the Cape were still underway.
Edward Thompson's name is far too common for there to be any hope of a conclusive identification in English records, unless he can somehow be tied to the family of William White, whose origins have also not yet been conclusively ascertained.
Vital Records
[
]
Bradford's Journal
[
]
The White family, as recalled by William Bradford (1590-1657) in 1651, per their Mayflower voyage, and the birth of Peregrine:
"Mr. William White, and Susana, his wife, and one sone, called Resolved, and one borne a ship-bord, called Peregriene; and *2* servants, named William Holbeck and Edward Thomson."
The fate of the White family as recalled by Bradford in 1651:
"Mr. White dyed soon after ther landing. His wife married with Mr. Winslow (as is before noted). His *2* sons are married, and Resolved had *5* children, Peregrine tow (sic), all living. So their increase are now *7*."
Pilgrim Monument
[
]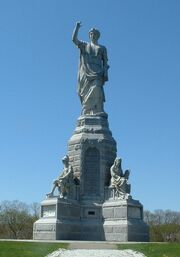 National Monument to the Forefathers, commemorates the Mayflower Pilgrims, (including this person) who came to Plymouth Colony in 1620 on the Mayflower. Dedicated on August 1, 1889, it is thought to be the world's largest solid granite monument. Located on an 11 acre hilltop site on Allerton Street in Plymouth, Massachusetts.
References
[
]