Edward C. Eyring was born 27 May 1868 in St George, Washington County, Utah, United States to Henry Carlos Ferdinand Eyring (1835-1902) and Mary Bommeli (1831-1913) and died 13 April 1957 Mesa, Maricopa County, Arizona, United States of unspecified causes. He married Caroline Cottam Romney (1874-1954) 11 October 1893 in Salt Lake City, Salt Lake County, Utah, United States. He married Emma Romney (1884-1957) 3 November 1903 in Colonia Juárez, Casas Grandes Municipality, Chihuahua, Mexico.
Biography
Son of Henry Carlos Ferdinand Eyring and Maria Bommeli. Married Caroline Cottam Romney, 11 Oct 1893 in Salt Lake City, Salt Lake, Utah.
Possibly the last person in the LDS Church to practice polygamy upto 1954 when his first wife died.
Edward operated a cattle ranch at the Mormon Colonies in Colonia Juarez, Chihuahua until July 1912 when they were driven out by violent revolutionaries of Pancho Villa. After living in El Paso for approximately one year, the Eyrings relocated to Pima, Arizona.
Family Life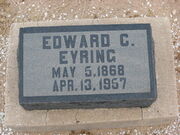 Children of Edward Eyring and Caroline Romney
Camilla Eyring (1894-1987) - m. Spencer W Kimball, Apostle and 12th President of the LDS Church

Mary Eyring (1898-1979)

-
Henry Eyring (1901-1981) - famous chemist, see biography Mormon Scientist, m. Mildred Bennion - cousin of Mervyn Bennion, captain of the US battleship West Virginia at Pearl Harbor.

Edward Christian Eyring (1903-1993)

- m. Evelyn Arms
Leland Eyring (1904-1904) - died young

Cathrine Eyring (1905-2006)

- m. William Edwards

Caroline Eyring (1907-1999)

- m. Glen Miner

Isabel Eyring (1909-1975)

- m. Evan Ellsworth

Joseph Clayborn Eyring (1910-1996)

- m. Lavon Brunt

Rose Eyring (1912-2009)

- m. Grant Calder
Children
Offspring of Edward C. Eyring and Caroline Cottam Romney (1874-1954)
Name
Birth
Death
Joined with
Camilla Eyring (1894-1987)
7 December 1894 Colonia Juarez, Chihuahua, Mexico
20 September 1987 Salt Lake City, Salt Lake County, Utah, United States
Spencer Woolley Kimball (1895-1985)


Mary Eyring (1898-1979)



Henry Eyring (1901-1981)
20 February 1901 Colonia Juárez, Chihuahua, Mexico
26 December 1981 Salt Lake City, Salt Lake County, Utah, United States
Mildred Bennion (1896-1969)


Edward Christian Eyring (1903-1993)




Leland Eyring (1904-1904)




Catherine Eyring (1905-2006)




Caroline Eyring (1907-1999)




Isabel Eyring (1909-1975)




Joseph Clayborn Eyring (1910-1996)




Rose Eyring (1912-2009)
Offspring of Edward C. Eyring and Emma Romney (1884-1957)
Name
Birth
Death
Joined with

Miles Eyring (1904-1904)




Anthony Ivins Eyring (1905-1989)




Ruth Eyring (1908-2003)




Isabel Eyring (1909-1975)




Maurine Eyring (1912-2007)




Ethel Eyring (1916-2009)




Leroy Eyring (1919-2005)




Margaret Eyring (1922-1926)
Siblings
Residences
Footnotes (including sources)