Edward Burcher was born circa 1543 in Southwark St. Saviour, London, England and died circa 1625 Plymouth, Plymouth County, Massachusetts of unspecified causes. He married Mother Burcher (1543-c1625) 1650 in England.
Biography
Per Banks he was probably of Southwark St. Saviour parish, London. He was beyond middle life on this voyage as the Little James captain wrote about he and his wife: "Father Birrtcher and his wife wear as hartey as the youngest in the ship." The only two members of the family known are Edward and his wife, whose first name is unknown.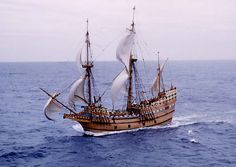 He was a passenger on the English ship Little James, which sailed from London in April, 1623, bound for Plymouth Colony. The ship was one of two to arrive safely that year and would remain in local waters to help with fishing and other chores. The Little James had two young men in charge – Master John Bridges, master mariner, and a novice Captain, Emmanuel Altham, a Merchant Adventurer.
The Burchers appeared in a letter of 1623 by the master of the Little James, John Bridge, and Mrs. Burcher was the probable individual referred to by another passenger, Emmanuel Altham, in another letter written that year. In the first, Bridge said that "father Vircher and his wife were as hearty as the youngest on the ship." Both "father," used in this case as a term of respect, and the comparison imply significant age. Altham referred to "an old woman in our ship about four score [80] years of age, which was in good health." Edward Vircher gave the two acres received in 1623 to another Plymouth colonist, Samuel Fuller (1580-1633), who mentioned them in his 1633 will. The Burchers do not again appear in Plymouth Colony records, and may have returned to England.
Edward Burcher and his wife received two acres in the 1623 Plymouth division of land. Their names to did not appear in the 1627 division of cattle, so they had died or left the colony by then.
Marriage and Family
Siblings
References
Residences
Footnotes (including sources)