Biography
Ebenezer Dyer, Sr. was born 3 April 1697 in Barnstable, Barnstable County, Massachusetts to William Dyer (1663-1738) and Mary Hatch Taylor (1657-1738) and died 23 July 1777 Truro, Barnstable County, Massachusetts of unspecified causes. He married Sarah Doane (1699-1760) 4 April 1720 in Eastham, Barnstable County, Massachusetts. He married Ruth Snow (1718-1765) 21 February 1761 in Truro, Barnstable County, Massachusetts. He married Phebbediah Smith (1716-1770) 6 November 1766 in Eastham, Barnstable County, Massachusetts. He married Mercy Freeman (1702-1786) 5 December 1771 in Truro, Barnstable County, Massachusetts. Charlemagne (747-814)/s, Henry II of England (1133-1189)/s, Hugh Capet (c940-996)/s, William I of England (1027-1087)/s.
"As an "adult," Ebenezer Dyer was baptized Feb. 18, 1727-28, in the church at Truro; he was admitted to membership on the same day. On March 4, following, his three children were baptized.XXX Nov. 19, 1756, a committee of three was chosen "to enquire the reason of Ebenezer Dyer absenting himself from the Lord's table." Violet, "negro servant to Ebenezer Dyer," was baptized, in 1760, with her daughter Nellie, and later, Violet's son Ezra and daughter Peggy.
Ebenezer Dyer lived on the homestead of his father, Doctor Dyer; he also owned land at East Harbor. In 1740, he was appointed by the Proprietors on a committee, with two others, "to view Eastern Harbor beach, and flat ground below Cedar Island, to see if it be needful to fence them to preserve Eastern Harbor meadow from being destroyed by the sands, and to make report to said proprietors of what they think proper to be done." He also was on a committee of three, chosen June 6, 1748, by the Proprietors, "to view the highway that goeth up the head of ye Long Nook to the back sea," and to see if Mr. Jonathan Paine and Mr. Samuel Dyer would consent to "turn the road a little higher up on the northerly side of the valley." Ebenezer Dyer was selectman of Truro three years subsequent to 1750. The shifting sands becoming still more troublesome, in 1760, Messrs. Barnabas Paine, Joshua Atkins, and Ebenezer Dyer were appointed to petition the Great and General Court that the Provincial tax be abated, "on account of great losses sustained by the town in consequence of the blowing of the sand upon the cultivated lands and meadows the winter past."(*)
It is not probable that Ebenezer Dyer was in active military service, but he was chosen at the town-meeting held Oct. 14, 1757, "to assist the military officers in drawing the claim List." Jan. 9, 1758, Ebenezer Dyer, Ensign Ambrose Dyer, and others, were a committee "to consider the business inserted in the warrant respecting the soldiers."(+)
Children
Offspring of Ebenezer Dyer, Sr. and Sarah Doane (1699-1760)
Name
Birth
Death
Joined with

Sarah Dyer (1723-1795)




Ebenezer Dyer (1725-1792)




Benjamin Dyer (1727-1792)




Dorcas Dyer (1729-)




Fulke Dyer (1733-1814)




Keturah Dyer (1735-1796)
Siblings
Residences
Vital Records
Barnstable Gravestone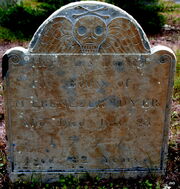 Last Will of Ebenezer Dyer
His will, signed "Ebenezer Dyer," was witnessed by Isaiah Atkins, Solomon Dyer, and Joshua Freeman; it was dated June 2, 1773, and presented Aug. 12, 1777.XXX He gave and bequeathed "to Mercy Dyer my wife agreeable to the Instrument given the Day of our marriage." To his daughter "Sarah Collings," six shillings; to daughter Dorcas Gross, twenty pounds; and to daughter Keturah Kinney, twenty pounds. To "my Son in law Thomas Aray at the age of twenty-one," œ26:13:4.
To his son Ebenezer Dyer, Jr., he gave all the land he bought of "Humphry Purrington Called purrington homestead Lying at Eastern Harbour In the township of Said truro together with the dwelling house Standing thereon where my said son now lives." To his son "Fulk Dyer," he gave "my Dwelling house wherein I now live and all the lands adjoining thereto formerly Called Doct. Dyers homestead together with all my Buildings and fencing," also the "Sheep lots that was Called the Atkins's on East harbour in Truro." The residue of the estate, both real and personal, was to be divided equally between the sons, Ebenezer and Fulke. (This name of Fulk, says Rich, appears to have been derived from the Fulke, or Foulke, family in England, a family of some prominence.(*))
See Also
Footnotes (including sources)