Biography
Dorothy "Dorcas" Goode was born 1688 in Salem, Essex County, Massachusetts to William Goode (1656-1711) and Sarah Solart (1653-1692) and died 16 October 1703 Salem, Essex County, Massachusetts, United States of unspecified causes.
Her mother, Sarah Solart Good (1653-1692) was one of the first three women to be accused of witchcraft in the Salem witch trials, which occurred in 1692 in colonial Massachusetts.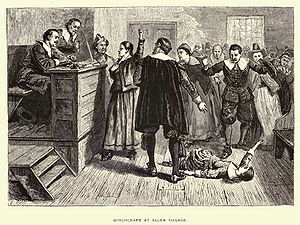 The Salem witch trials were a series of hearings and prosecutions of people accused of witchcraft in colonial Massachusetts between February 1692 and May 1693. More than 200 people were accused, nineteen of whom were found guilty and executed by hanging (fourteen women and five men). One other man, Giles Corey, was pressed to death for refusing to plead, and at least five people died in jail. It was the deadliest witch hunt in the history of the United States.
Good was accused of witchcraft on March 6, 1692 [O.S. February 25, 1691],[Note 1] when Abigail Williams and Elizabeth Parris, related to the Reverend Samuel Parris, claimed to be bewitched under her hand. The young girls asserted they had been bitten, pinched, and otherwise abused. They would have fits in which their bodies would appear to involuntarily convulse, their eyes rolling into the back of their heads and their mouths hanging open. When the Rev. Samuel Parris asked "Who torments you?" the girls eventually shouted out the names of three townspeople: Tituba, Sarah Osborne, and Sarah Good.[1]
Good was pregnant at the time of her arrest and gave birth to an infant (Mercy) in her cell in the jail in Ipswich. The infant died before her mother was hanged.
In 1710, William Good successfully sued the Great and General Court for health and mental damages done to Sarah and Dorcas, ultimately receiving thirty pounds sterling, one of the largest sums granted to the families of the witchcraft victims.
Marriage and Family
Dorothy Goode (1688-unknown) (aka: Dorcas Goode)
Mercy Goode (1692-1692)
Siblings
See Also
References
Residences
Footnotes (including sources)
Community content is available under
CC-BY-SA
unless otherwise noted.