Dionis Stevens Coffin was born 4 March 1610 in Brixton, Devonshire, England to Robert Stevens (c1580-1627) and Dionis Stevens (1581-1647) and died after 16 October 1676 Nantucket, Nantucket County, Massachusetts of unspecified causes. She married Tristram Coffin (1605-1681) 1630 in Brixton, Devon, England.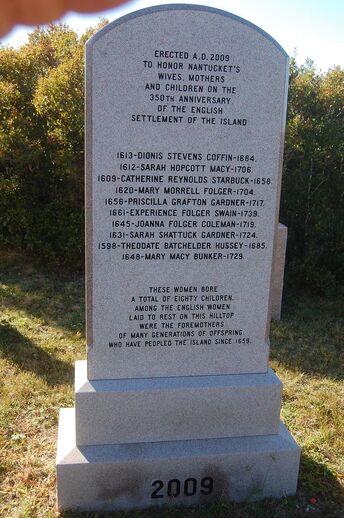 Newbury Innkeeper
Dionis Stevens Coffin was the daughter of Robert and Dionis Stevens of Brixton, England. She married Tristram Coffin about 1630 in Devonshire, England, and they were the progenitors of the Coffin family of Nantucket Island. Their children were:
In 1644 Tristram obtained a license to "keep an ordinary, sell wine, and keep a ferry" in Newbury, where the family had moved. In 1647 he got another license to do the same. The pub, "Coffin's Ordinary," was run by his wife Dionis; at the time brewing beer was a common occupation for women. In 1653 Dionis was charged with violating a law, passed in 1645, which said that beer could not be sold for more than two pence a quart. Her case was presented and dismissed when she showed that she was putting more malt in her beer than was usual, and that the beer should be sold for a proportionately larger fee. Her pub became known as "the place where the best beer was sold."
Children
Offspring of Tristram Coffin and Dionis Stevens (1610-1680)
Name
Birth
Death
Joined with

Peter Coffin (1630-1715)



Tristram Coffin (1633-1704)
1 February 1633 Brixton, Devonshire, England
4 February 1704 Newbury, Essex County, Massachusetts
Judith Kimberly Greenleaf (1625-1705)


Elizabeth Coffin (1634-1678)



James Coffin (1640-1720)
12 August 1640 Brixton, Devonshire, England
28 July 1720 Nantucket, Nantucket County, Massachusetts
Mary Severance (1645-1720)


Deborah Coffin (1642-1642)



Mary Coffin (1645-1717)
20 April 1645 Haverhill, Essex County, Massachusetts
13 November 1717 Nantucket, Nantucket County, Massachusetts
Nathaniel Starbuck (1636-1719)

John Coffin (1647-1711)
30 December 1647 Haverhill, Essex County, Massachusetts
5 September 1711 Edgartown, Dukes County, Massachusetts
Deborah Austin (1647-1718)

Stephen Coffin (1652-1734)
11 July 1652 Nantucket, Nantucket County, Massachusetts
14 November 1734 Nantucket, Nantucket County, Massachusetts
Mary Bunker (1652-1724)
Siblings
References
Residences
Footnotes (including sources)