Participant in Salem witch trials
English Immigrant to America
Rev. Deodat Lawson was born circa 1650 in Norfolk, England and died 1727 England of unspecified causes. He married Unknown Lawson (c1650-1686) 1670 in England. He married Deborah Allen (c1655-) 1694 in Boston, Suffolk County, Massachusetts.
Deodat Lawson was a minister in Salem Village from 1684 to 1688 and is famous for a 10-page pamphlet describing the witchcraft accusations in the early spring of 1692. The pamphlet was billed as "collected by Deodat Lawson" and printed within the year in Boston, Massachusetts.
Lawson was born in Norfolk, England and likely received his education there. The work attributed to him displays great erudition but there is no record of his having attended Cambridge, Oxford, or Trinity College.[1][2] It is possible he attended one of the semi-clandestine dissenting academies. His mother died within a few weeks of his birth.[3] By 1671, he had travelled to Martha's Vineyard in New England.[4] The diarist Samuel Sewall first records him coming to Boston in 1681.[5] He was a minister in Salem Village beginning in 1684 when several church members (including Peter Cloyce husband of Sarah Cloyce a woman who would be among the earliest accused in 1692) were sent by the church to get a boat and help him move his belongings up to Salem. Lawson seems to have never reached mutually agreeable terms in order to be ordained and hold a covenant with the church of Salem Village.[6] While at the Village, Lawson's wife and daughter died. (This subject would be revisited in 1692, see below.)[7]
By the spring of 1688, Lawson returned to Boston and he seems to have been something of an itinerant preacher over the next four years.[8] In 1690, Lawson re-married to a woman named Deborah Allen.[9]
On July 19,1688, Lawson preached a proclamation day sermon for the Dominion of New England governor Andros, as was reported in a letter to Increase Mather by Samuel Sewall.[10] It is not clear if this may have been perceived as something of a betrayal to the Mathers, as Increase Mather had only recently fled to England to avoid prosecution under Andros government. In most cases, religious services for Andros were in keeping with the Church of England not that of the Puritans.[11] A strange reference to Lawson's preaching sermons for Andros arose later during the witchcraft trials in the deposition of a twelve-year-old accuser in August of 1692.[12] This deposition was presented in the trial of Lawson's predecessor George Burroughs with Increase Mather in attendance.[13]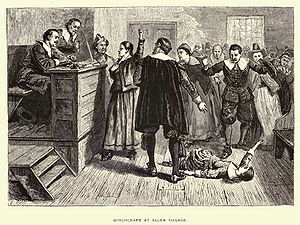 The Salem witch trials were a series of hearings and prosecutions of people accused of witchcraft in colonial Massachusetts between February 1692 and May 1693. More than 200 people were accused, nineteen of whom were found guilty and executed by hanging (fourteen women and five men). One other man, Giles Corey, was pressed to death for refusing to plead, and at least five people died in jail. It was the deadliest witch hunt in the history of the United States.
The pamphlet: A Brief Narrative of Some Remarkable Passages at Salem Village:
Unlike the zealous Cotton Mather and his powerful father Increase Mather, Deodat Lawson does not appear to have published works on witchcraft (if anything else) prior to this pamphlet published under his name ("collected by") in 1692. One historian of the "Bibliography of Witchcraft" considered the introduction to have most likely been written by Cotton Mather, and it is noticeable that the printer, Benjamin Harris, also produced the two lengthy books on witchcraft by the Mathers that summer and fall-- a very large commission for a colonial printer.[14]
Lawson's brief narrative covers March 19-April 5,1692. Oddly, none of the numerous court records and depositions covering the same period list the presence of Lawson in Salem Village.[15] A deposition by Ann Putnam Sr lists a number of the same dates including the sabbath day, March 20, without mentioning Lawson or whoever it was that preached the sermon that day. On March 23, Lawson (or Lawson's narrator) says he paid a visit Ann Putnam Sr. to witness her afflictions, but Ann Putnam Sr. doesn't mention the presence of this out-of-town guest in describing her afflictions on that day, and the very next day, during an examination, the court asked not for Lawson but instead for the Rev. Samuel Parris to read his notes of a visit to Ann Putnam Sr. Thus, it seems that some portions of what was "collected by" Lawson would best be understood as the accounts of others, including Parris.
Reprinting the Witch-phobic Sermon
[
edit
|
edit source
]
Back in England in 1696, Lawson seems to have been known for his contemporaneous account of Salem perhaps because the "Brief Narrative" been included in London editions of Cotton Mather's Wonders of the Invisible World (WIW) in 1693. Lawson claims that he was solicited to reprint the witch-phobic sermon from March 24, 1692, "...but for some particular reasons I did then decline it." By 1704, a second edition of the March 24, 1692 sermon was printed and sold with an appendix that included some of the information from the "Brief Narrative" in a different form, incorporating information provided by Cotton Mather (in WIW) and presented as two lists, one regarding the afflicted and a separate one on the accused. In this version, all dates and identifying information (including initials) were removed with the exception of a reference to "the ghosts of my wife and daughter."[16]


,
Siblings
Community content is available under
CC-BY-SA
unless otherwise noted.