David Fiske was born circa 1601 in Westerly, Suffolk, England to Jeffrey Fiske (1558-1629) and Mary Sarah Cooke (1568-1614) and died 22 January 1662 Wenham, Essex County, Massachusetts of unspecified causes. He married Sarah Smith (1602-1660) 1622 in Suffolk, England.
Biography
David Fiske of Watertown, Mass was born in England about 1601. He was possibly a son of Geoffrey Fiske and a grandson of Robert and Sybil (Gold) Fiske of Broad Gates, Laxfield, Suffolk, near Framingham. He emigrated to new England about 1636, settling in Watertown, where he was admitted as freeman in March 1637. He was a selectman in 1640 and 1643, a juror in 1652, 1654, 1655, 1657 and was proprietor of seven lots totaling 227 acres.
Watertown Founders Monument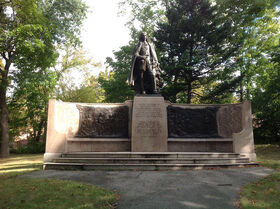 He is listed on Watertown Founders Monument, commemorating the first settlers of Watertown, Massachusetts. The town was first known as Saltonstall Plantation, one of the earliest of the Massachusetts Bay Colony settlements. Founded in early 1630 by a group of settlers led by Richard Saltonstall and George Phillips, it was officially incorporated that same year. The alternate spelling "Waterton" is seen in some early documents.
This monument lists David Fiske (1601-1662), his step-brother Nathaniel Fiske (1615-1676), cousin John Fiske (c1629-1684) and two brother in-laws, Gregory Stone (1590-1672) and Martin Underwood (1596-1672).
Marriage and Family
David married Sarah Smith (1602-1660), a daughter of Edmund of Wrentham, Suffolk, England on 26 Sep 1620. Children both born in England were David and Martha married to Thomas Fitch. Remingtons of Utah by Ward J. Roylance p. 58.
His will, dated 10 Sep 1660 and proved 22 Jan 1662 mentions his daughter Fitch and son David who was sole executor and residuary legatee and who received the house, lands, cattle and chattels.
Children
Siblings
References
Residences
Footnotes (including sources)