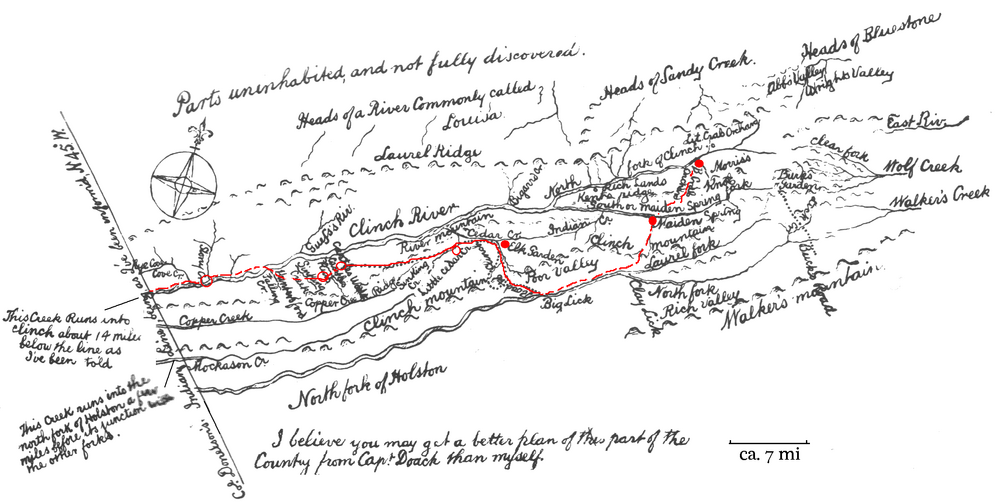 Caption: Daniel Smith Map of 1774, with modifications. Closed red circles indicate the location of Forts as shown in Smith's original map. Open red circiles indicate locations of forts not shown on Smith's map. From left to right the forts were known as Blackmore's, Moore's, Russell's, Glade Hollow, Elk Gardens, Maiden Springs, and Whitten's Big Crab Orchard.
The dashed red line shows the route of what came to be known as the "Kentucky Trace". The solid red line, extending from "Big Lick" to "Castles Woods", is the portion of the future Kentucky Trace and which Smith designated "Road to Clinch".
This map appears in the Draper Manuscript Collection as item 4NN62. It was reproduced in Lewis, 1905:30-31, whose versin has been scanned and reproduced here. Labeling on Smith's original map was oriented such that the map had to be turned up-side down to read some of the labels. Some of the principle labels of interest have been rotated so that they are legible with the map held in a north-south orientation.
Community content is available under
CC-BY-SA
unless otherwise noted.