Daniel G. Ashworth was born 15 June 1876 in East Salem, Salem, Washington County, New York, United States to James Edward Ashworth (1831-1910) and Ellen E. Ramsbottom (1843-1910) and died 28 June 1949 Westbrookville, Orange County, New York, United States of unspecified causes. He married Sybil H. Decker (1881-1946) 2 May 1906 in United States.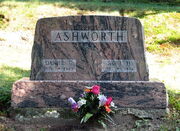 Siblings
Children
Obituary
Middletown Times Herald; Middletown, New York on Wednesday, June 29, 1949:
Daniel G. Ashworth, president of the J. E. Ashworth and Sons, Inc., textile manufacturers, died at his home here yesterday afternoon. Mr. Ashworth was the last surviving senior member of the firm. He was born in East Salem, New York, June fifteenth, 1876, a son of James E. and Ellen Ramsbottom Ashworth. When eleven years old he moved to Westbrookville. Mr. Ashworth married Miss Sybil H. Decker of Haven, New York, on May 2nd 1906. She died in 1946. Surviving are three sons, Curtis Walter of Otisville, and Charles Albert and Daniel Clifford of Westbrookville; a daughter, Miss Ellen Ashworth at home; and six granddaughters. Funeral services will be held at the Methodist Episcopal Church here on Friday afternoon at two o'clock with the Rev. Robert Bowering officiating. Interment will be in the Westbrookville Cemetery.
External link
Images
Footnotes (including sources)