The Counts of Holland ruled over the county of Holland, the western sea board of the Low Countries, between the 10th and the 16th century. Holland was a fief of the Bishop of Utrecht, and the county was part of the Holy Roman Empire.
Gerold was the first count of Holland. The second count, Dirk I was his son, foster-son or nephew. Until about 1100, the usual names for the county were West-Friesland, Frisia or Kennemerland.
Note that the chronology of the first few counts is uncertain. The existence of a count between Dirk I and Dirk II was only recently suggested, since it is thought that the references to counts named Dirk between 896 and 988 refer to three, not two, different counts. This third Count Dirk is placed between Dirk and I and II and numbered as Dirk I bis to avoid confusion with the already established numbering referring to the other counts of Holland named Dirk.
The House of Holland ruled until Count John I died childless. He was succeeded by his second cousin Count John II of the House of Avesnes. From then onwards, the County of Holland was in personal union with the County of Hainaut.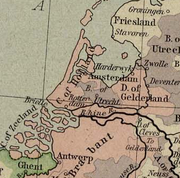 Margaret was the fourth and last ruler of the House of Avesnes. She fought and lost a civil war with her son William V, and power passed to the House of Wittelsbach. The personal union now also included the Duchy of Bavaria-Straubing.
Jacoba was the fourth and last Wittelsbach ruler. She fought a civil war with her uncle, and lost to her cousin and successor Philip the Good, Duke of Burgundy. Philip's son Charles the Brave added the Duchy of Gelre to the family properties and became the first ruler of what is now Belgium and the Netherlands.
Charles had a only a single daughter, Mary, and the county passed to the House of Habsburg with Philip I, Mary's son. Willem van Oranje (1533-1584) led a successful revolt against Philip's grandson Philip II. Philip II's grandson, Philip IV, renounced all claims and was the last of 35 Counts of Holland.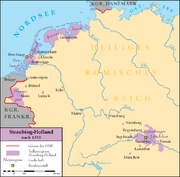 Counts of Holland
Edit
Community content is available under
CC-BY-SA
unless otherwise noted.