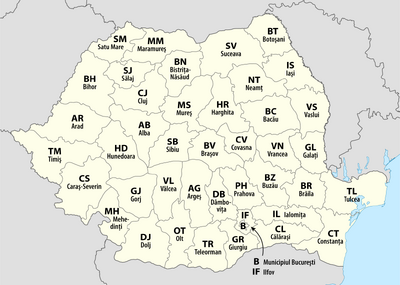 A total of 41 counties (Romanian: județe) and the municipality of Bucharest comprise the official administrative divisions of Romania. They represent the country's NUTS-3 (Nomenclature of Territorial Units for Statistics – Level 3) statistical subdivisions within the European Union and each of them serves as the local level of government within its borders. Most counties are named after a major river, while some are named after notable cities within them, such as the county seat.
The earliest organization into județe of the Principalities of Wallachia and Moldavia (where they were termed ținuturi) dates back to at least the late 14th century. For most of the time since modern Romania was formed in 1859, the administrative division system has been similar to the French departments one. The system was changed several times since then, and the number of counties varied over time, from the 71 județe that existed before World War II to only 39 after 1968. The current format has largely been in place since 1968 as only small changes have been made since then, the last of which was in 1997.
According to 2006 data from the Romanian National Institute of Statistics, the average population of Romania's 41 counties is about 479,300, with Iaşi County as the most populous (825,000) and Covasna County (223,000) the least. The average county's land area is 5,809 square kilometres (2,243 sq mi), with Timiş County (8,697 square kilometres (3,358 sq mi)) the largest and Ilfov County (1,583 square kilometres (611 sq mi)) the smallest. The Municipality of Bucharest is both more populous and much smaller than any county, with 1,931,200 people and 228 square kilometres (88 sq mi).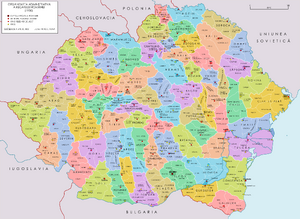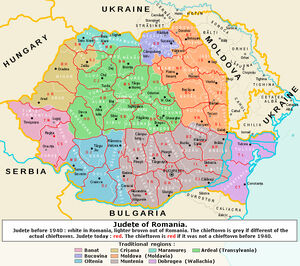 The earliest organization into județe (for Wallachia), and ţinuturi (for Moldavia), dates back at least to the late 14th century.[note 1][1][2][3] Inspired from the organization of the late Byzantine Empire, each județ was ruled by a jude (or pârcălab for a ținut), a person officially appointed with administrative and judicial functions.[3][4] Transylvania was divided into royal counties headed by comes (royal counts) with administrative and judicial functions.[3]
After modern Romania was formed in 1859 through the union of Wallachia and the rump of Moldavia, the administrative division was modernized using the French administrative system as a model, with județ as the basic administrative unit.[5][6] Aside from the 1950–1968 period, this system has remained in place until today. Since 1864, for each județ there exists a prefect, a subordinate of the Ministry of Internal Affairs and representative of the government inside the county; he is also the head of local administration for areas not delegated to local authorities.[5][6] Until 1948, each judeţ was further divided into several plăşi, each administered by a pretor.[7]
After the adoption of a new Constitution in 1923, the traditional local administrative systems of the newly acquired regions of Transylvania, Bukovina and Bessarabia were made uniform in 1925 with that of the Romanian Old Kingdom. County borders were kept largely intact, with few adjustments, and the total number of counties was raised to 71; this lasted until the beginning of World War II.[6] In 1938, King Carol II modified the law on the administration of the Romanian territory according to the fascist model.[8] Ten ținuturi (approx. translation "lands") were created, ruled by Rezidenți Regali (Royal Residents), appointed directly by the Monarch. The ținuturi represented another layer of administration between counties and the country, as the county borders were not erased.[5][9] Due to the territorial changes during World War II, this style of administration did not last, and the administration at the județ level was reintroduced after the war.[5] Between 1941–1944, Romania administered the territory between the Dniester and Southern Bug rivers known as Transnistria, which consisted of 13 separate counties.[10]
After taking over the administration of the country in 1945, the Communist Party changed the administrative model to that of the Soviet Union (regions and raions) in 1950, but changed it back in 1968.[11] Nevertheless, the county borders set then were quite different from those present during the interbellum, as only 39 counties were formed from the 56 remaining after the war.[12] In 1981, Giurgiu and Călărași were split from Ialomița and the former county of Ilfov,[12] while in 1997, Ilfov County, which had been a dependency of the Municipality of Bucharest for nearly two decades, was reinstated.[13][14] The county borders set in 1968 are still largely in place today, but the functions of different authorities have changed due to administrative reforms in the 1990s.[5][6]
At present, Romania is divided into 41 counties and one municipality (Bucharest); these are assigned as the NUTS-3 geocode statistical subdivision scheme of Romania within the European Union.[15] Each of the counties is further divided into cities (some of which have municipality status) and communes. The prefect and his administration have executive prerogatives within the county limits, while limited legislative powers are assigned to a County Council elected every four years during local elections.[16] The territorial districts of the Romanian judicial system overlap with county borders, thus avoiding further complication in the separation of powers on the government.[5]
County

County seat

Name origin
[note 2]

Development
region

ISO code
[note 3]

Postal code
[note 4][17]

Area code
[note 5][18]

NUTS code
[note 6][19]

Population
(2007)[20]

Area
[21]

Map

Alba

Alba Iulia

Alba River
Center
AB
51
58
RO121
376,086
6.242 km2 (2.410 sq mi)
Arad

Arad

county seat
West
AR
31
57
RO421
457,713
7.754 km2 (2.994 sq mi)
Argeș

Pitești

Argeș River
South-Muntenia
AG
11
48
RO311
644,236
6.862 km2 (2.649 sq mi)
Bacău

Bacău

county seat
North-East
BC
60
34
RO211
719,844
6.621 km2 (2.556 sq mi)
Bihor

Oradea

Biharia commune
North-West
BH
41
59
RO111
594,131
7.544 km2 (2.913 sq mi)
Bistrița-Năsăud

Bistrița

Bistrița River and Năsăud city
North-West
BN
42
63
RO112
316,689
5.355 km2 (2.068 sq mi)
Botoșani

Botoșani

county seat
North-East
BT
71
31
RO212
454,167
4.986 km2 (1.925 sq mi)
Brașov

Brașov

county seat
Center
BV
50
68
RO122
593,928
5.363 km2 (2.071 sq mi)
Brăila

Brăila

county seat
South-East
BR
81
39
RO221
365,628
4.766 km2 (1.840 sq mi)
București

(Municipality of Bucharest)
[note 7]
last name Bucur[22]
Bucharest-Ilfov
B
01–06
[note 8]
1x
[note 9]
RO321
1,931,838
228 km2 (88 sq mi)
Buzău

Buzău

Buzău River
South-East
BZ
12
38
RO222
488,763
6.103 km2 (2.356 sq mi)
Caraș-Severin

Reșița

defunct Caraș and Severin Counties
West
CS
32
55
RO422
327,579
8.514 km2 (3.287 sq mi)
Călărași

Călărași

county seat
South-Muntenia
CL
91
42
RO312
315,187
5.088 km2 (1.964 sq mi)
Cluj

Cluj-Napoca

county seat
North-West
CJ
40
64
RO113
692,316
6.674 km2 (2.577 sq mi)
Constanța

Constanța

county seat
South-East
CT
90
41
RO223
718,330
7.071 km2 (2.730 sq mi)
Covasna

Sfântu Gheorghe

Covasna River
Center
CV
52
67
RO123
223,364
3.710 km2 (1.432 sq mi)
Dâmbovița

Târgoviște

Dâmbovița River
South-Muntenia
DB
13
45
RO313
533,330
4.054 km2 (1.565 sq mi)
Dolj

Craiova

Jiu River[note 10]
South-West Oltenia
DJ
20
51
RO411
712,187
7.414 km2 (2.863 sq mi)
Galați

Galați

county seat
South-East
GL
80
36
RO224
614,449
4.466 km2 (1.724 sq mi)
Giurgiu

Giurgiu

county seat
South-Muntenia
GR
08
46
RO314
283,408
3.526 km2 (1.361 sq mi)
Gorj

Târgu Jiu

Jiu River[note 11]
South-West Oltenia
GJ
21
53
RO412
381,643
5.602 km2 (2.163 sq mi)
Harghita

Miercurea-Ciuc

Harghita Mountains
Center
HR
53
66
RO124
325,611
6.639 km2 (2.563 sq mi)
Hunedoara

Deva

Hunedoara city
West
HD
33
54
RO423
472,284
7.063 km2 (2.727 sq mi)
Ialomița

Slobozia

Ialomița River
South-Muntenia
IL
92
43
RO315
290,563
4.453 km2 (1.719 sq mi)
Iași

Iași

county seat
North-East
IS
70
32
RO213
825,100
5.476 km2 (2.114 sq mi)
Ilfov

Buftea

Ilfov River
Bucharest-Ilfov
IF
07
1x
[note 9]
RO322
294,094
1.583 km2 (0.611 sq mi)
Maramureș

Baia Mare

Maramureș historical region
North-West
MM
43
62
RO114
513,000
6.304 km2 (2.434 sq mi)
Mehedinți

Drobeta-Turnu Severin

Mehadia commune
South-West Oltenia
MH
22
52
RO413
298,741
4.933 km2 (1.905 sq mi)
Mureș

Târgu Mureș

Mureș River
Center
MS
54
65
RO125
581,759
6.714 km2 (2.592 sq mi)
Neamț

Piatra Neamț

Neamț River
North-East
NT
61
33
RO214
566,059
5.896 km2 (2.276 sq mi)
Olt

Slatina

Olt River
South-West Oltenia
OT
23
49
RO414
475,702
5.498 km2 (2.123 sq mi)
Prahova

Ploiești

Prahova River
South-Muntenia
PH
10
44
RO316
821,013
4.716 km2 (1.821 sq mi)
Satu Mare

Satu Mare

county seat
North-West
SM
44
61
RO115
366,270
4.418 km2 (1.706 sq mi)
Sălaj

Zalău

Sălaj River
North-West
SJ
45
60
RO116
243,157
3.864 km2 (1.492 sq mi)
Sibiu

Sibiu

county seat
Center
SB
55
69
RO126
423,156
5.432 km2 (2.097 sq mi)
Suceava

Suceava

Suceava River
North-East
SV
72
30
RO215
705,878
8.553 km2 (3.302 sq mi)
Teleorman

Alexandria

Teleorman River
South-Muntenia
TR
14
47
RO317
413,064
5.790 km2 (2.236 sq mi)
Timiș

Timișoara

Timiș River
West
TM
30
56
RO424
666,866
8.697 km2 (3.358 sq mi)
Tulcea

Tulcea

county seat
South-East
TL
82
40
RO225
250,641
8.499 km2 (3.281 sq mi)
Vaslui

Vaslui

Vaslui River
North-East
VS
73
35
RO216
455,594
5.318 km2 (2.053 sq mi)
Vâlcea

Râmnicu Vâlcea

medieval county of Vîlcea[1][note 12]
South-West Oltenia
VL
24
50
RO415
411,576
5.765 km2 (2.226 sq mi)
Vrancea

Focşani

medieval county of Vrancha[23][note 13]
South-East
VN
62
37
RO226
392,619
4.857 km2 (1.875 sq mi)
Community content is available under
CC-BY-SA
unless otherwise noted.