This page collects information about people with surname Coffin who were known or believed to have lived in Suffolk County, Massachusetts.
Notable Individuals
Notable Landmarks
External Links
See Also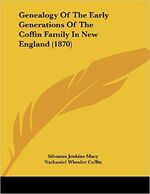 Genealogy of the Early Generations of the Coffin Family of New England - 1870 work by Silvanus Jenkins Macy (Author), Nathaniel Wheeler Coffin (Author), William S. Appleton (Author) - This scarce antiquarian book is a facsimile reprint of the original. Due to its age, it may contain imperfections such as marks, notations, marginalia and flawed pages. Because we believe this work is culturally important, we have made it available as part of our commitment for protecting, preserving, and promoting the world's literature in affordable, high quality, modern editions that are true to the original work.
:Note, for the following tables, that there may be more than one county or district of this name and that some contributors may have entered a different (possibly shorter and/or ambiguous) name when this one was meant. Search for similar names to get a more complete result. Common abbreviations are "Co." and "Cty", but there may have been no word for "county" (or equivalent) included, or such a word may have been wrongly included.
Familypedia people with surname Coffin in Suffolk County, Massachusetts

Readers can sort columns using the triangles at top.
Born in Suffolk County, Massachusetts
Baptised in Suffolk County, Massachusetts
Married in Suffolk County, Massachusetts
Grouping is for "first marriage", "second marriage", etc as indicated in column headings
|   | Birth place | Baptism place | Wedding1 date | Wedding1 place | Joined with-g1 |
| --- | --- | --- | --- | --- | --- |
| Elizabeth Coffin (1741-1822) | Boston, Suffolk County, Massachusetts, United States | | 1764 | Boston, Suffolk County, Massachusetts, United States | Thomas Amory (1722-1784) |
| Nathaniel Coffin (1725-1780) | Boston, Suffolk County, Massachusetts, United States | | 1745 | Boston, Suffolk County, Massachusetts | Elizabeth Barnes (1724-1784) |
Died in Suffolk County, Massachusetts
|   | Death date | Death place | Birth place | Father | Mother | Joined with |
| --- | --- | --- | --- | --- | --- | --- |
| Elizabeth Coffin (1741-1822) | 18 June 1822 | Boston, Suffolk County, Massachusetts, United States | Boston, Suffolk County, Massachusetts, United States | William Coffin (1699-1775) | Ann Anna Holmes (1699-1775) | Thomas Amory (1722-1784) |
| William Coffin (1699-1775) | 23 June 1775 | Boston, Suffolk County, Massachusetts | Nantucket, Nantucket County, Massachusetts | Nathaniel Coffin (1671-1721) | Damaris Gayer (1673-1764) | Ann Anna Holmes (1699-1775) |
Buried in Suffolk County, Massachusetts
References
Articles, images
People
Daily life

Before 1700

 •

1700-1749

 •

1750-1799

 •

1800-1819

 •

1820-1839

 •

1840-1859

 •

1860-1879

 •

1880-1899

 •

1900-1919

 •

1920-1939

 •

1940-1959

 •

1960-1979

 •

1980-1999

 •

2000-present

Research,
including queries

Suffolk County, Massachusetts links

 •

Birth records

 •

Businesses

 •

Cemeteries

 •

Census data

 •

Census records

 •

Church records

 •

Court records

 •

Death records

 •

Directories

 •

Landowner records

 •

Marriage records

 •

Maps

 •

Military records

 •

Obituaries

 •

Probate records

 •

Queries