Cluj

—  County (Judeţ)  —

Păniceni wooden church


Coat of arms

Cluj county in Romania
Country
 Romania
Development region
Nord-Vest
Historical region
Transylvania
County seat
Cluj-Napoca
Government
 • Type
County Council
 • President of the County Council
Pǎunel Tişe (PD)
 • Prefect2
Florin Vasile Stamatian
Area
 • County (Judeţ)
6,674 km2 (2,577 sq mi)
Area rank
12th in Romania
Elevation
1,842 - 227 m (6,043 - 745 ft)
Population (2002)
 • County (Judeţ)
702,755
 • Rank
7th in Romania
 • Density
105/km2 (270/sq mi)
 • Urban
464,377
Time zone
EET (UTC+2)
 • Summer (DST)
EEST (UTC+3)
Postal Code
40wxyz3
Area code(s)
+40 x644
Car Plates
CJ5
GDP
US$ 7.65 billion (2008)
GDP/capita
US$ 11,177 (2008)
Website
County Board
County Prefecture
2 as of 2007, the Prefect is not a politician, but a public functionary. He (or she) is not allowed to be a member of a political party, and is banned to have any political activity in the first six months after the resignation (or exclusion) from the public functionary corps
3w, x, y, and z are digits that indicate the city, the street, part of the street, or even the building of the address
4x is a digit indicating the operator: 2 for the former national operator, Romtelecom, and 3 for the other ground telephone networks
5used on both the plates of the vehicles that operate only in the county limits (like utility vehicles, ATVs, etc.), and the ones used outside the county
Cluj (Romanian pronunciation: [ˈkluʒ]; Hungarian: Kolozs); is a county (județ) of Romania, in Transylvania, with the capital city at Cluj-Napoca.
In 2007, it had a population of 692,316 and a population density of 104/km².
| Year | County population[2] |
| --- | --- |
| 1948 | 520,073 |
| 1956 | 580,344 |
| 1966 | 629,746 |
| 1977 | 715,507 |
| 1992 | 736,301 |
| 2002 | 702,755 |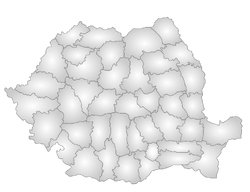 This county has a total area of 6,674 km². About 1/3 of this surface are mountains—the Apuseni Mountains, with heights up to 1800 m and located in the Southwest part of the county. The rest of the surface is the North side of the Transylvanian Plateau, a hilly region with deep and wide valleys.
The main rivers in the county are Someşul Mic, Arieş, and Crişul Repede.
Cluj County has one of the most dynamic economies in Romania. It is a region with one of the highest ratings of foreign investments. In addition, Cluj-Napoca is home to one of Romania's important IT and financial services centers.
The county's main industries are:
Mechanical components;
Wood processing;
Glass manufacturing;
Pharmaceutics and cosmetics;
Food stuffs processing;
Textiles.
Mining and natural gas extraction are also developed.
The main tourist destinations in the county are: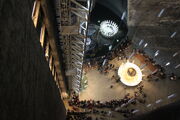 Cluj County has 5 municipalities, 1 town and 75 communes.

Community content is available under
CC-BY-SA
unless otherwise noted.