Articles, images
People

Births

 •

Deaths

 •

Baptisms

 •

Marriages

 •

Divorces

 •

Burials

 •

Families

 •

Residents

Daily life

Before 1700

 •

1700-1749

 •

1750-1799

 •

1800-1819

 •

1820-1839

 •

1840-1859

 •

1860-1879

 •

1880-1899

 •

1900-1919

 •

1920-1939

 •

1940-1959

 •

1960-1979

 •

1980-1999

 •

2000-present

Research,
including queries

Clay County, Missouri links

 •

Birth records

 •

Businesses

 •

Cemeteries

 •

Census data

 •

Census records

 •

Church records

 •

Court records

 •

Death records

 •

Directories

 •

Landowner records

 •

Marriage records

 •

Maps

 •

Military records

 •

Obituaries

 •

Probate records

 •

Queries
Clay County

,

Missouri


Location in the state of Missouri

Missouri's location in the U.S.
Founded
January 2, 1822
Seat
Liberty
Area
 - Total
 - Land
 - Water

409 sq mi (1,059 km²)
396 sq mi (1,027 km²)
13 sq mi (32 km²), 3.06%
PopulationEst.
 - (2004)
 - Density

197,588
483.1/sq mi (186.6/km²)

Time zone

Central: UTC-6/-5
Website
www.claycogov.com
Clay County is a county located in the U.S. state of Missouri. As of 2000, the population was 184,006. Its county seat is Liberty6. The county was organized in 1822 and was named in honor of U.S. Representative Henry Clay from Kentucky, later member of the United States Senate and United States Secretary of State.
Clay County is part of the Kansas City Metropolitan Area
Geography
[
]
According to the U.S. Census Bureau, the county has a total area of 1,059 km² (409 sq mi). 1,027 km² (396 sq mi) of it is land and 32 km² (13 sq mi) of it (3.06%) is water.
Adjacent counties
[
]
Major highways
[
]
History
[
]
Many members of the Church of Jesus Christ of Latter-day Saints found refuge in Clay County in November 1833. In 1836 mobs drove the Saints from the county.[1]
Historical populations
[
]
In 1930 Clay county had 26,811 residents.[2]
Demographics
[
]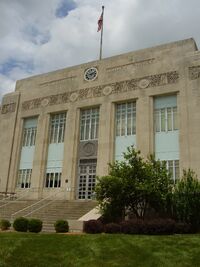 As of the census² of 2000, there were 184,006 people, 72,558 households, and 50,137 families residing in the county. The population density was 179/km² (464/sq mi). There were 76,230 housing units at an average density of 74/km² (192/sq mi). The racial makeup of the county was 92.46% White, 2.66% Black or African American, 0.48% Native American, 1.35% Asian, 0.09% Pacific Islander, 1.18% from other races, and 1.78% from two or more races. 3.58% of the population were Hispanic or Latino of any race. 23.3% were of German, 14.5% American, 11.0% English, 10.8% Irish and 5.6% Italian ancestry according to Census 2000.
There were 72,558 households out of which 33.80% had children under the age of 18 living with them, 55.40% were married couples living together, 10.20% had a female householder with no husband present, and 30.90% were non-families. 25.20% of all households were made up of individuals and 7.40% had someone living alone who was 65 years of age or older. The average household size was 2.50 and the average family size was 3.00.
In the county the population was spread out with 25.80% under the age of 18, 8.70% from 18 to 24, 32.30% from 25 to 44, 22.30% from 45 to 64, and 10.80% who were 65 years of age or older. The median age was 35 years. For every 100 females there were 94.60 males. For every 100 females age 18 and over, there were 91.80 males.
The median income for a household in the county was $48,347, and the median income for a family was $56,772. Males had a median income of $40,148 versus $27,681 for females. The per capita income for the county was $23,144. About 3.80% of families and 5.50% of the population were below the poverty line, including 6.40% of those under age 18 and 5.50% of those age 65 or over.
Notable Residents
[
]
Cities and towns
[
]
External links
[
]
---
 State

of

Missouri

Topics

Government

Delegations

Geography

People

Battles

Visitor attractions

Society

Crime

Demographics

Economy

Education

Politics

Regions

Boonslick

Bootheel

Crowley's Ridge

Henry Shaw Ozark Corridor

Honey Lands

Lead Belt

Lincoln Hills

Loess Hills

Mid-Missouri

Mississippi Embayment

Missouri Rhineland

Platte Purchase

Pony Express

St. Francois Mountains

Westplex

Metro areas
Largest cities
Counties and
independent cities
Coordinates: 39°19′N 94°25′W / 39.31, -94.42