Chikkamagaluru district

—  

district

  —

Kudremukh, the "Horse-faced Peak"

Coordinates:

13°19′N

75°46′E

 / 

13.32

,

75.77

Coordinates:

13°19′N

75°46′E

 / 

13.32

,

75.77

Country
 India
State
Karnataka
Headquarters
Chikkamagaluru
Talukas
Chikkamagaluru, Kadur, Tarikere, Mudigere, Shringeri, Koppa, Narasimharajapura
Government
 • Deputy Commissioner
Narayana Swamy
Area
 • Total
7,201 km2 (2,780 sq mi)
Population (2001)
 • Total
1,139,104
 • Density
158.19/km2 (409.7/sq mi)
Languages
 • Official
Kannada
Time zone
IST (UTC+5:30)
Vehicle registration
KA- 18
Website
chickmagalur.nic.in/
Chikkamagaluru (Kannada: ಚಿಕ್ಕಮಗಳೂರು) is a district in the Indian state of Karnataka. Coffee was first cultivated in India in Chikamagalur. The mountains in Chikkamagaluru which are a part of the Western Ghats are the source of rivers like Tunga and Bhadra. Mullayanagiri,which is the highest peak in Karnataka is located in the district. It is also a tourist's paradise containing hill stations like Kemmanagundi and Kudremukh and waterfalls like Manikyadhara, Hebbe, Kallathigiri. Chikkamagaluru district has a rich history as is seen in the Hoysala temple at Amrithapura. Wildlife enthusiasts would be interested in the Kudremukh National Park and Bhadra Wildlife Sanctuary present in this district.
Chikkamagalur district gets its name from its headquarters of Chikkamagaluru town. It is alternatively spelt as Chickmagalur or Chikmagalur. Chikkamagaluru literally means "The town of the younger daughter" in the native Kannada language. The town is said to have been given as a dowry to the younger daughter of Rukmangada, the legendary chief of Sakrepatna and hence the name.[1] As one can guess, there is indeed a town called Hiremagaluru which means "The town of the elder daughter" which is about 5 km from Chikkamagaluru town.
Chikkamagaluru is the region where the Hoysala rulers started and spent the early days of their dynasty. According to a legend, it was at Sosevur, now identified with Angadi in Mudigere Taluk that Sala, the founder of the Hoysala dynasty, killed the legendary tiger, immortalised in the Hoysala crest.[2] However, scholars have found lot of inconsistencies in this story and it seems to be more of a folklore.[3] However, it is known that Veera Ballala II (1173 - 1220 CE), the great king of Hoysala empire, has built the Amriteshwara temple at Amrithapura in Tarikere Taluk.
Coffee was introduced into India through the Chikkamagaluru district when the first coffee crop was grown in the Baba Budan Giri Hills during 1670 AD. According to the article Origins of Coffee, the saint Baba Budan on his pilgrimage to Mecca travelled through the seaport of Mocha, Yemen where he discovered coffee. To introduce its taste to India, he wrapped seven coffee beans around his belly and got them out of Arabia. On his return home, he planted the beans in the hills of Chikkamagaluru.
In recent history, Chikkamagaluru was the centre of global attention in the year 1978 when the former Indian Prime Minister, Indira Gandhi stood for elections here and got elected to Lok Sabha, the Indian Parliament.
Chikkamagaluru, the district head quarters of Chikkamagaluru district is 251 km from the state capital of Bangalore and surrounded by the Chandra Dronha hills and dense forests. The district is situated between 12° 54´ 42´´ and 13° 53´ 53´´ north latitude and between 75° 04´ 46´´ and 76° 21´ 50´´ east longitude. Its greatest length from east to west is about 138.4 kilometers and from north to south 88.5 kilometers. The district receives normal average rainfall of 1925 mm. The highest point in this district is Mullayanagiri, 1926 mts. above sea level which is also the highest point in the state of Karnataka. 30% of the district (2108.62 km²) is covered with forests.[4] The district borders Shimoga district to the north, Davangere district to the north-east, Chitradurga and Tumkur districts to the east, Hassan district to the south, Dakshina Kannada district to the south-west and Udupi district to the west. The rivers Bhadra, Tunga, Hemavathi, Netravati, and Vedavathi flow all year round. The district is rich in iron, magnetite and granite deposits. Black soil is found around Baba Budan Giri Hills whereas Red and Gravel soil are found in the southern parts of the district.
According to the 2011 census Chikkamagaluru district has a population of 1,137,753 ,[5] roughly equal to the nation of Cyprus[6] or the US state of Rhode Island.[7] This gives it a ranking of 408th in India (out of a total of 640).[5] The district has a population density of 158 inhabitants per square kilometre (410 /sq mi) .[5] Its population growth rate over the decade 2001-2011 was -0.28 %.[5] Chikmagalur has a sex ratio of 1005 females for every 1000 males,[5] and a literacy rate of 79.24 %.[5]
81% of the population resides in rural area with the remaining 19% being the urban population. Among Taluks, Sringeri taluk has the least population whereas Chikkamagaluru Taluk has the highest population.
Kannada is the Dominant language spoken in this district.other languages like Tulu, Konkani, Marathi, Urdu, Telugu and Gujarati are also spoken by small portion of population.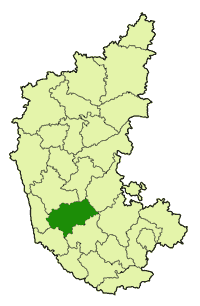 Chikkamagaluru district falls under the Mysore Division of Karnataka. It is divided into two Revenue Sub-divisions, Chikkamagaluru Sub-Division and Tarikere Sub-Division. Chikkamagaluru Sub-Division comprises the taluks of Chikkamagaluru, Koppa, Mudigere and Sringeri whereas the Tarikere Sub-Division comprises the taluks of Tarikere, Kadur and Narasimharajapura. The Deputy Commissioner (also the District Magistrate) is the functional head of the district. Each Sub-Division has Assistant Commissioners and each Taluk has Tahsildars who work under the control and supervision of the Deputy Commissioner. The current administrative setup of the district can be viewed here.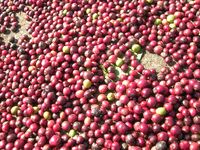 Agriculture is the economical back bone of the Chikkamagaluru district with coffee cultivation forming the major part of it. Agricultural production in the district is spread over three seasons — namely Kharif, Rabi and Summer. Important crops grown are cereals, i.e. rice, ragi, jowar, maize and minor millets, pulses like red gram, horse gram, green gram, avrekai (Hyacinth Beans), black gram and Bengal gram. Oil seeds like groundnut, sesamum, sunflower, castor and commercial crops like sugarcane, cotton, and tobacco are also grown here.[8]
The Coffee Board located in Chikkamagaluru town is the government authority that oversees the production and marketing of coffee cultivated in the district. Coffee is cultivated in Chikkamagaluru district in an area of around 85,465 hectares with Arabica being the dominant variety grown in upper hills and Robusta being the major variety in the low level hills. There are around 15000 coffee growers in this district with 96% of them being small growers with holdings of less than or equal to 4 hectares. The average production is 55,000 MT: 35,000 MT of Arabica and 20,000 MT of Robusta. The average productivity per hectare is 810 kg for Arabica and 1110 kg of Robusta, which are higher than the national average.[9]
Chikkamagaluru district unfortunately has not made good progress in terms of Industrial Development. Inadequate infrastructure, poor roads, poor rail network and investors preferring non-industrial ventures over industrial ones are quoted as some of the reasons for the backwardness of Industrial Development in this district.[10][11]
There is only one Large Scale industry in this district, i.e. M/s Kudremukh Iron Ore Company Ltd. (KIOCL) in Kudremukh area of Mudigere Taluk. KIOCL was established in 1976 to develop the Kudremukh mine and to produce 7.5 million tonnes of concentrate per year. The facilities were commissioned in 1980 and the first shipment of concentrate was made in October 1981. A pelletisation plant with a capacity of 3 million tonnes per year was commissioned in 1987 for production of high quality blast furnace and direct reduction grade pellets for export.[12] KIOCL received a massive setback when its mining licence expired and operations were stopped by the Supreme Court with effect from 31 Dec, 2005.[13] With many of the employees losing their jobs and the social backlash that may result thereof, efforts are being made to generate jobs for these workers in other areas.[14]
There is only one Medium Scale Industry, i.e. M/s Vignyan Industries Ltd. located in Tarikere town. A subsidiary of BEML, it produces steel castings.
There are 2 Industrial Estates in Chikkamagaluru district, one located near Chikkamagaluru town and the other near Birur in Kadur Taluk. The Chikkamagaluru Industrial Estate is spread over 13.20 acres (53,420 m2) of land where the one at Birur is spread over 11.1 acres (44,900 m2). Karnataka Industrial Area Development Board (KIADB) is also developing an Industrial Area of over 145 acres (0.587 km2) near Amble village of Chikkamagaluru Taluk.[15]
According to 2001 census, the percentage literacy rate of Chikkamagaluru district is 72.63% with 80.68% of males and 64.47% of females being literate. The literacy rate of Chikkamagaluru is higher than the average literacy rate of Karnataka state which is 67.04%. Sringeri Taluk has the highest literacy rate of 80.78% and Kadur Taluk with 68.33% being the least literate one.
Primary and secondary education
As of 2001, there are 1620 primary schools (with 151923 students) and 235 secondary schools (high schools with 34607 students) in Chikkamagaluru district.[16] Chikkamagaluru Taluk with 414 primary schools (42774 students) has the most number of primary schools with Sringeri Taluk having the least number of 80 primary schools (5822 students). Kadur Taluk with 74 secondary schools (9990 students) has the most number of secondary schools with Sringeri Taluk having the least number of 9 secondary schools (1492 students).
Higher secondary education
As of 2001, there are 46 colleges (with 4711 students) offering Higher Secondary (Pre-University) education in Chikkamagaluru district.[16] Kadur Taluk with 12 Higher-Secondary colleges (1324 students) has the most number of Higher-secondary colleges with Sringeri Taluk having the least number of 2 Higher-secondary colleges (160 students).
Graduate education
As of 2001, there are 13 degree colleges (with 4615 students) offering graduate education in Chikkamagaluru district[16] which are affiliated to Kuvempu University. Chikkamagaluru Taluk has the maximum 4 graduate colleges (with 1648 students) whereas Koppa, Mudigere, Narasimharajapura and Sringeri taluks have only 1 graduate college each.
Technical education
Engineering: There is an Engineering College located in Chikkamagaluru town named Adichunchanagiri Institute of Technology The courses offered here are Mechanical Engineering, Computer Science Engineering, Electronics and Communication Engineering, Electrical and Electronics Engineering, Information Science and technology, Industrial producation Engineering, Environmental Engineering and Civil Engineering. This college is affiliated to Visweswariah Technological University located at Belgaum.
Polytechnics: There are 3 polytechnics offering diploma courses to students in Chikkamagaluru district.[17] They are:

Adichunchanagiri Institute of Technology Polytechnic, Chikkamagaluru: Offering Diploma courses in Electronics and Communication and Computer Science
DACG (GOVT) Polytechnic, Chikkamagaluru: Offering Diploma courses in Civil Engineering, Electrical Engineering, Mechanical Engineering , Automobile Engineering, Computer Science and Engineering, Electronics and Communication Engineering
SJMM Vidyapeeta Polytechnic, Birur: Offering Diploma courses in Civil Engineering and Telecommunication Engineering.
Industrial Training Institutes: There are 7 Industrial training institutes in Chikkamagaluru district.[17] They are:

Government Industrial Training Institute, Chikkamagaluru
Government Industrial Training Institute, Kadur
SDM Industrial Training Institute, Samse, Mudigere Taluk
SJR Industrial Training Institute, Balehonnur, Narasimharajapura Taluk
SJM Industrial Training Institute, Birur, Kadur Taluk
Karnataka Industrial Training Institute, Chikkamagaluru
Lakshmisha Industrial Training Institute, Devanoor, Kadur Taluk.
Maruthi Industrial Training Institute, Kadur
SJM degree college, Tariker.
Medical education
The only source of medical education in the Chikkamagaluru district is Arror Laxminarayan Rao Memorial Ayurvedic Medical college in Koppa. This college offers the Bachelor of Ayurvedic Medicine and Surgery (BAMS) degree.
Road
Chikkamagaluru district is not known for well maintained roads.[18][19] The poor state of the roads has hampered development of this district to some extent; more so because of the absence of even a good rail network in this district.[20] The total length of roads in this district is 7264 km.[4] There are only two National Highways that pass through this district. The National Highway NH-13 (Sholapur to Mangalore) passes through the towns of Koppa and Sringeri whereas the National Highway NH-206 (Bangalore to Honnavar) passes through the towns of Kadur, Birur and Tarikere. There is a proposal to upgrade the existing state highways Tarikere-Belur, Sringeri-Hassan & Kadur-Mangalore to national highway status.[21]
Rail
The Kadur and Tarikere taluks have railway lines passing through them. The total length of railway line passing through the district is 91 km of which 51 km is in Kadur taluk and 40 km is in Tarikere taluk. Birur station is a major junction in this district where the railway line from Bangalore bifurcates, with one line going towards Hubli and the other towards Shimoga. The district headquarters, Chikkamagaluru town does not have a railway station which is one of the reasons for the isolation of Chikkamagaluru town from the rest of the state. A new line is being laid between Kadur and Sakleshpur in Hassan district which should pass through Chikkamagaluru city.[22]
Air
Chikkamagaluru district have a small airport near Gowdanahalli village about 10 km from Chikkamagaluru town. Its suitable for small charted planes. Airports at Mangalore, Bangalore and Hubli can be used as an alternative.[23]
Kemmangundi: 55 km north from Chikkamagaluru town is Kemmangundi Lingadahalli is the junction point to go for Kemmangundi, a scenic hill station on the Baba Budan Giri range of hills. Kemmangundi is also known as K.R. Hills after the Wodeyar King, Krishnaraja Wodeyar, who had made it his favourite summer camp. Kemmangundi, at a height of 1,434 meters, is surrounded by thick forests and a salubrious climate throughout the year. It is surrounded by the Baba Budan Giri range and blessed with silver cascades of mountain streams and lush vegetation. Its beautifully laid out ornamental gardens and enchanting mountain and valley views are a treat to the eye. Spectacular sunsets are a must see from various locations in the district, even from the Raj Bhavan. For the adventurous, Kemmangundi offers many peaks to scale and intricate jungle paths to explore. This place has a beautiful rose garden and other attractions. There is a place called Z-point at about 10 minutes walk from this main place which gives a nice aerial view of the Shola grass lands of the Western Ghats. It was popularised by the reference in a Tamil film Kamal Haasan's Panchatantiram.
Kudremukh and Kudremukh National Park: 95 km southwest of Chikkamagaluru town is Kudremukh range (in Kannada Kudure = horse and mukha = face), so named because of the unique shape of the Kudremukh peak. Overlooking the Arabian Sea, the broad hills are chained to one another with deep valley & steep precipices. Situated at 1,894.3 meters above sea level, Kudremukh is rich in iron ore deposits. The Kudremukh Iron Ore Company conducts mining operations, benefaction and transportation of the ore as slurry through pipelines to the port at Panambur near Mangalore.
Mullayanagiri: Mullayanagiri is part of the Baba Budan Giri Hill Ranges here. It stands 1930 meters tall and is the tallest peak in Karnataka. Its height is famous mostly for watching sunsets from. It is 16 km from Chikkamagaluru town. Driving to Mullayanagiri is worth taking a risk. On the way is Sitalayanagiri where the water in the Shiva temple neither increases nor decreases. The road to Mullayanagiri is very narrow with a views from steep cliffs. Driving to the peak is not possible and includes a trek up the hill from the half way point. There is a small temple on top of the hill. From the topmost point of the hill the Arabian Sea is visible on clear days. The small hillock in the temple compound is the highest point in Karnataka. The narrow road to the temple makes two way traffic impossible. It is a great trekking spot in Karnataka.
Baba Budan Giri (Datta peeta): To the north of Chikkamagaluru town is the Baba Budan Giri Range or Chandra Drona Parvatha as it was known in the ancient times, which has one of the highest mountain peaks between the Himalayas and the Nilgiris. The peak takes its name from the Muslim saint, Baba Budan, who resided here more than 150 years ago.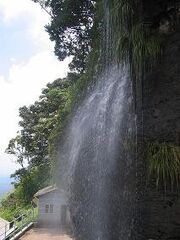 Manikyadhara Falls is a waterfall near the famous pilgrim centre Baba Budan Giri Dattatreya Peetha where water spills down like small pearls giving the visitors a memorable shower bath.
Kallathigiri Falls: Just 10 km away from Kemmangundi is Kallahathigiri falls. Water cascades down from the top of the Chandra Drona hill from a height of 122 meters amidst fascinating scenery. There is an old Veerabhadra temple dedicated to Lord Shiva, constructed in a gap between rocks. This temple can be approached after crossing the waterfall.
Hebbe Falls: This beautiful waterfall is over 10 km away from the famous hill station, Kemmangundi. Here water streams down from a height of 168 meters in two stages to form Dodda Hebbe (Big Falls) and Chikka Hebbe (Small Falls).
Shanti Falls: This is a beautiful waterfall on the way to Z-Point in Kemmangundi.
Hanumana Gundi Falls: Located 32 km. from the Kalasa, the waterfall has water falling on to Natural rock formations from a height of more than 100 feet (30 m).
Kadambi Falls: This is a waterfall located in the Kudremukh National Park.
Sirimane Falls: This is a waterfall located about 14 km from Sringeri town.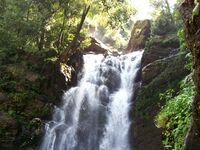 Sringeri: 90 km west of Chikkamagaluru town is Sringeri situated on the banks of Tunga, a Vedic Peetha established by Sri Adi Shankara, the exponent of the Advaita philosophy in 9th Century A.D. It is famous for Vidyashankara Temple originally constructed by the Hoysalas and later completed by the founders of the Vijayanagar Empire and Sharada temple, an early 20th. century addition. In the Vidya Shankara shrine, there are 12 zodiac pillars, which are so constructed that the rays of the sun fall on the pillar corresponding to the month.
Horanadu: Horanadu is 100 km southwest of Chikkamagaluru and has an ancient Annapoorneshwari Temple, which has been renovated recently. With the installation of the new image of Adi Shakti, now the temple is called Adi-Shaktyatmaka Shri Annapoorneshwari. The place attracts lots of pilgrims who are provided free boarding and lodging by the temple.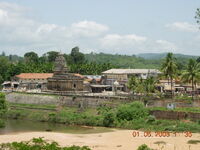 Kalasa: Kalasa is 92 km southwest of Chikkamagaluru and situated on the banks of the river Bhadra. It is surrounded by lofty hills of the Western Ghats and is looked upon as one of the pancha-kshetras on the banks of the Bhadra. Close by are the pancha theerthas, the five sacred ponds. On a small hillock here is the Kalaseshwara temple in dedicated to Ishwara, with a Kshetrapala shrine of soap stone in Hoysala style nearby. The Madhawacharya bande, a large boulder at one of the theerthas here, is supposed to have been placed by Shri Madhawacharya the founder of the Dvaita school of philosophy. A statue of this acharya is carved on the upper portion of the rock.
Guru Dattatreya Bababudanswamy Darga: Situated on the Baba Budan Giri is the Inam Dattatreya Peetha venerated by the Hindus and the Muslims alike. A laterite cave here is believed to have been sanctified by the residence of Dattatreya Swami as well as Hazrat Dada Hayat Mir Khalander. The worship here is conducted by a fakir and the annual jatra or urs is attended by both Hindus and Muslims with great fervors.
Amritapura: 67 km north of Chikkamagaluru, Amrithapura is known for the Amritheshwara temple built in 1196 A.D by Amriteshwara Dandanayaka, a general of the Hoysala ruler Veera Ballala II. Delicacy of touch, originality of design and fine features have made this temple one of the notable structures of the Hoysala period.
Narasimharajapura: The Simhanagadde Jwalamalini Temple is located at the Simhanagadde town near Narasimharajapura in Chikkamagaluru district [26]. This is one of the important Jain temples in Karnataka state. The temple houses an attractive black colored idol of Goddess Jwalamalini as the main deity [27]. The history of this idol dates back to the period around 15th and 16th century. The temple has a very spacious hall and a sanctoum sanctorum. This temple attracts huge number of devotees in India as well as foreign countries. The temple was renovated in 1994. Shri Kshetra Simhanagadde is famous for the Atishaya (place of miracles) of Jwalamalini Devi - Yakshini (guardian spirit) of the Eighth Tirthankara, Shri Bhagwan Chandraprabhu in Jainism[28].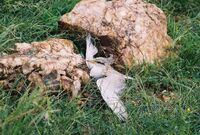 Bhadra Wildlife Sanctuary: Occupying 495 km². of wildlife sanctuary and Project tiger reserve, this region is an important watershed of the Tungabhadra river. The huge reservoir here is the main water supply to several districts in the rain shadow regions of south Karnataka. The forests here are rich in Bamboo and birds species unique to both the Malabar and Sahyadri ranges.
Kudremukh National Park: The Kudremukh National Park (latitudinal range 13°01'00" to 13°29'17" N, longitudinal range 75°00'55' to 75°25'00" E) is the largest declared Wildlife Protected Area (600 km²) of a tropical wet evergreen type of forest in the Western Ghats. The Western Ghats is one of the twenty-five hot spots identified for bio-diversity conservation in the world. Kudremukh National Park comes under the Global Tiger Conservation Priority-I, under the format developed jointly by Wildlife Conservation Society (WCS) and World Wide Fund-USA.

Wikimedia Commons has media related to:
Template:Settlements in Chikkamagaluru district Template:Chikkamagaluru topics
Community content is available under
CC-BY-SA
unless otherwise noted.