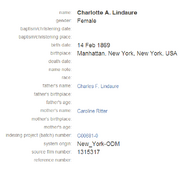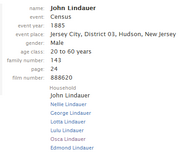 Charlotte A. Lindauer (1869-1894) aka Lottie Landers (b. Valentine's Day, February 14, 1869; Manhattan, New York City, New York, USA - d. March 28, 1894, 11:00 am, Manhattan Hospital, 125 West 106th Street, Manhattan, New York City, New York, USA)
Birth
[
]
She was born in 1869 to Charles F. Lindauer (1840) and Caroline Ritter (1846-?), aka Carrie Ritter.
Marriage
[
]
She married Edward R. Landers (c1870-?).
Death
[
]
She died on March 28, 1894 at 11:00 am from "peritonitis and shock following an operation". The doctor attended her from March 08, 1894 to March 25, 1894. The death certificate lists her name as "Lottie Landers" and her father as "Charles" and her mother as "Carrie". The father is Charles Lindauer (1840-?) who may be the same person as Charles Frederick Lindauer I (1835-1921). The mother must be Caroline Ritter (1846-?).
Burial
[
]
Lottie was buried on March 28, 1894 in the Lindauer plot in Cypress Hills Cemetery in Brooklyn.
Research
[
]
Richard Arthur Norton (1958) writes in 2013: "There are two Charles Lindauers in the 1870 census. One is listed as living with Anna as his wife, age 30 and born in New York. The other is listed as living with Carrie as his wife, age 30 born in Pennsylvania. It is not known if both entries are the same person in two households or if there are two cousins born at the same time and same place with the same name, married to two different people. The fact that Charles and Lottie's daughter, Caroline (Carrie), is buried in the same grave as as Anna August Kershaw, gives more evidence that Charles may have had two families. Kevin Borland (1975) believes that Caroline Ritter was the wife of John Jacob Lindauer, since Lottie appears in the 1880 census living in his household. In 2013 it was found that the second Charles Lindauer was also 'Charles F. Lindauer' which supports the bigamy theory."