Wikipedia
Charles the Bald Carolingian, King of Aquitaine, King of Italy, King of West Francia, Holy Roman Emperor, was born 823 in Frankfurt am Main, Hesse, Germany to Louis the Pious (778-840) and Judith of Bavaria (795-843) and died 877 Avrieux, France of unspecified causes. He married Ermentrude d'Orléans (830-869) 842 JL . He married Richildis de Provence (c845-910) 870 JL . Charlemagne (747-814)/s.
Children








Some sources add a 6th daughter with Ermentrude, Godehilde (864-907), who may have married a count of Maine.
Siblings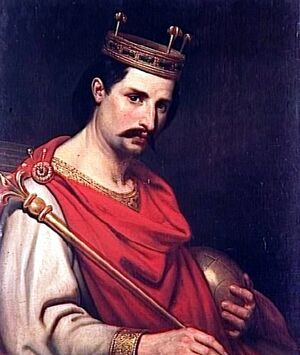 Footnotes (including sources)
Community content is available under
CC-BY-SA
unless otherwise noted.