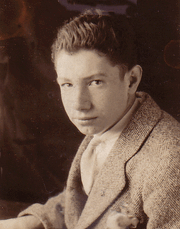 Charles Francis Freudenberg (1910-1979) Accountant at Veteran's Hospital in Illinois (b. October 06, 1910, 273 Webster Avenue, Jersey City, Hudson County, New Jersey, 07307-1448, USA - d. February 05, 1979, Mapleton, Peoria County, Illinois, 61547, USA) Social Security Number 140-01-8556.
Charles was born in 1910 to Charles Fredrick Freudenberg (1887-1942) who was then working in a stationery store and Julia Mary Buttomer (1883-1973) of New York.
Chicago, Illinois
Edit
When his father died in 1942 his mother moved to Chicago and took Charles.
Around 1935 Charles married Henrietta Jones and they had no children.
Accountant
Edit
He worked as an accountant at the Veteran's Hospital in Peoria County, Illinois before he died.
He died of "ventricular fibrillation from idiopathic cardiopathy" in 1979.
He was buried with his mother at Forest Home Cemetery at 863 Des Plaines Avenue, Forest Park, Illinois.
Community content is available under
CC-BY-SA
unless otherwise noted.