Charles Chadwick was born 24 April 1596 in Rochdale Parish, Lancaster, England to Alexander Chadwick (1567-1624) and Joan Bennett (1567-1623) and died 10 April 1682 Watertown, Middlesex County, Massachusetts of unspecified causes. He married Elizabeth Norcross (1614-1684) 1636 in Watertown, Middlesex County, Massachusetts.
Research Notes
Charles Chadwick and wife Elizabeth (Fox?) came over in 1630 and lived on Bank Lane near Mt. Auburn... perhaps he was a mechant, for he was allowed nine shillings in 1673 for "muny laid out for naills and part of pay for a wastkote for ould bright." (Robinson, G. Frederick, Great Little Watertown : a tercentenary history, 1930)
Charles Chadwick, freeman, 1631, Selectman, and Representative in 1657 and 1659. (Harris' Epitaphs)
Charles Chadwick may have been the son of Richard Chadwick and was born in England abt. 1596. He may have married Elizabeth Norcross. Source may be unreliable.
Watertown Founders Monument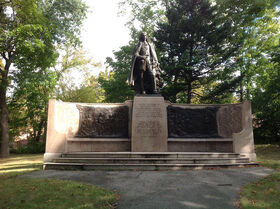 He is listed on Watertown Founders Monument, commemorating the first settlers of Watertown, Massachusetts. The town was first known as Saltonstall Plantation, one of the earliest of the Massachusetts Bay Colony settlements. Founded in early 1630 by a group of settlers led by Richard Saltonstall and George Phillips, it was officially incorporated that same year. The alternate spelling "Waterton" is seen in some early documents.
Marriage and Family
Children
Offspring of Charles Chadwick and

Elizabeth Norcross (1614-1684)

Name
Birth
Death
Joined with

Thomas Chadwick (1638-)
Siblings
Research Notes
Vital Records
Watertown Gravestone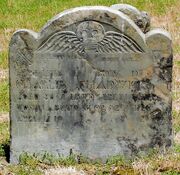 Location:

Watertown Old Burying Ground

at Watertown MA
Inscription:
MEMENTO MORI FUGIT HORA

HERE LYES ye BODY OF CHARLES CHADWICK AGED 86 YRS LIUED HERE IN WATER TOWN ABOUT 51 OR 52 YRS DIED APRIL ye 10 1682
References
Residences
Footnotes (including sources)