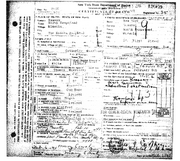 Catherine Mary Hogan (1864-1941) aka Kate Hogan; Immigrant from Ireland to USA around 1880 or 1881 (b. January 1864, Hollygrove township, Athleague parish, Killeroran district, County Galway/Roscommon, Ireland - d. February 06, 1941, Nassau Hospital, Mineola, Nassau County, New York, USA)
There were other children and more work will have to be done to find the entire set of siblings in the Irish baptismal books.
Catherine Hogan emigrated to the US around 1880-1881.
She married Thomas Morrissey I (1863-1928), a shipping laborer, on November 25, 1888. The ceremony was at Saint Patrick's Cathedral in Manhattan.
From at least 1900 to 1910 she was living with her husband and children at 147 Amsterdam Avenue in Manhattan in New York City, New York and in 1930 she was living at 110 West 102nd Street in Manhattan in New York City with Michael Hogan (c1858-?) who was her brother; and Raymond Hogan (1910-?), her nephew.
Catherine died at Nassau Hospital in Mineola in Nassau County, New York. Her death certificate number was "12069". Her cause of death was "brachiogenic carcinoma with diastomal obstruction". She also suffered from thrombosis of her superior vena cava. She was hospitalized on January 17, 1941 and died on February 06, 1941. She was 74 years old. She was living at the home of her daughter, Winifred at 32 First Street in Miracle, North Hempstead on Long Island.
Catherine was buried in Calvary Cemetery in Woodside, Queens, New York, with her husband and her three children that died as infants: Thomas, Richard and Mary.
Memories of Hollygrove, Ireland
[
edit
|
edit source
]
Community content is available under
CC-BY-SA
unless otherwise noted.