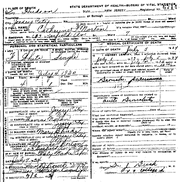 Catherine Finn Norton (1930-1934) Died as a Youth, Suffered from Metabolic Disorder (b. July 04, 1930, Christ Hospital, Jersey City, Hudson County, New Jersey, USA - d. July 05, 1934, 603 Garfield Avenue, Jersey City, Hudson County, New Jersey, USA)
Her obituary appeared in the Jersey Journal on Friday, July 06, 1934 and reads as follows:
On Thursday, July 05, 1934, Catherine Finn Norton, aged 4 years, the beloved daughter of Thomas and Mary Norton (nee Burke). Relatives and friends are invited to attend the funeral on Saturday, July 07, 1934, from the residence, 603 Garfield Avenue, at 10:30 a.m. Interment Holy Name Cemetery.
Memories about Catherine Norton
[
edit
|
edit source
]
Thomas Patrick Norton (1920- ) said circa 2000: "She never grew properly, she had a pituitary deficiency and had to take medicine. The medicine might have been pituitary extract from animals, but I am not sure. She was sick and Dr. George Brick came to the house and wrote a prescription. I went to the drug store and waited for them to fill the prescription, and when I returned home my dad told me that she had died. He then sent for the doctor again. The doctor confirmed she had expired and my mom got to her knees and thanked God that the child's suffering was over. She lived exactly 4 years and died of pneumonia. When she died my father took all her toys and stuffed animals and burned them in the furnace in the basement. The wake was in our house. I was very nervous and pacing back and forth and James Patrick Langan I (1889-1975) sat me down and told me not to worry and that everything was going to be all right."
Thomas Patrick Norton (1920- ) on Christmas Eve, Monday, December 24, 2007 said: "She was never right, she never grew and couldn't talk or walk. She never even cried. She could sit in the high chair, and had to be strapped in. She didn't develop any teeth, she never really grew at all and stayed small. I remember giving her Zweiback toast that she would eat."
Community content is available under
CC-BY-SA
unless otherwise noted.