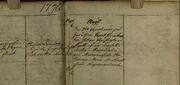 Catharina Maria Martinel (1773-1813) Housewife (b. 1773, Jämtland, Sweden - d. November 26, 1813, Hede, Jämtland, Sweden)
She was born in 1773, in Jämtland, Sweden.
On August 4, 1796, Catharina married Johan Christopher Örbom Ruuth (1767-1822) Vicar of Hede, Sweden, in Foxalfven. Johan was the son of Erik Johan Örbom (1723/24-1815), Major of the Jämtland regiment; and Helena Ruuth (1729-1822), daughter of Helena von der Hude. Johan took his mother's maiden name and made it his family name.
Catharina Helena Ruut (1797-?) who was born in Linsell, married Michael Huss (1782-1836), a vicar, and they lived in Mo
Eric Gustav Ruut (1803-1864) who was a student in 1822 and later joined the King's Guard
Jacob Efraim Ruut (1808-?) who was born in Hult and went to school in Härnösand and traveled to Finland with an acting group, that later went to St. Petersburg where he first became a teacher and then obtained a counselor position
Kristina Margarita Ruut (1810-?) was born in Hede and married Carl Gustav Högström, a bookbinder in 1833, they lived in Östersund
Carl Johan Ruut (1812-1832) who was born in Hede and committed suicide on December 28, 1832 in the Stallmästargården (the stable master's house) in Stockholm
She died on November 26, 1813, Hede, Jämtland, Sweden.
Community content is available under
CC-BY-SA
unless otherwise noted.