Zions Camp Participant
Edit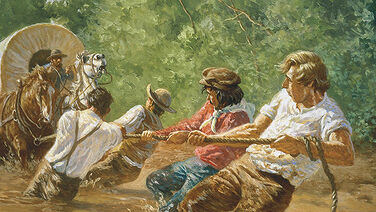 One of the most interesting episodes in the early history of LDS Church was the march of Zion's Camp (1834). The members of the Church in Missouri were being persecuted, and the Prophet Joseph made it a matter of prayer and received a revelation on February 24, 1834. The Lord instructed the Prophet to assemble at least one hundred young and middle-aged men and to go to the land of Zion, or Missouri. (See D&C 130:19–34.)
Zion's Camp, a group of approximately one hundred and fifty men, gathered at Kirtland, Ohio, in the spring of 1834 and marched to Jackson County, Missouri. By the time they reached Missouri, the camp had increased to approximately two hundred men.
Trending pages
All items (24)
Community content is available under
CC-BY-SA
unless otherwise noted.