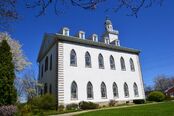 Created by the Mormon Prophet Joseph Smith (1805-1844) in early 1835, the Quorum of Seventy was to act as traveling and presiding ministers for the newly created The Church of Jesus Christ of Latter-day Saints. Many of these men performed notable works for the early church, living near then church headquarters in Kirtland, Ohio. The Quorum of Seventy itself did not meet as a governing body of the church and was not renewed until reorganized by the church in 1976.
Trending pages
All items (19)
Community content is available under
CC-BY-SA
unless otherwise noted.