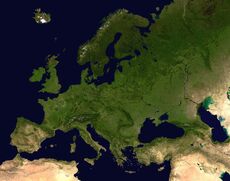 This category is for extinct languages of Europe, languages and dialects of Europe which have undergone language death, have no native speakers and no spoken descendant.
In some cases however, it is not known whether a language has a spoken descendant or not. For example, because of the uncertain origin of the Albanian language — aside from its being an Indo-European language — and because little remains of the ancient languages in question, there is dispute whether Dacian, Thracian or Illyrian have a spoken descendant, Albanian. These languages are not included here.
GFDL compliance: This page is based on old pages in the history of List of extinct languages of Europe.
Trending pages
All items (1)