Călăraşi

—  County (Judet)  —

Landscape in Călăraşi County


Coat of arms

Country
 Romania
Development region1
Sud
Historic region
Greater Wallachia
Capital city (Resedinta de judet)
Călăraşi
Government
 • Type
County Board
 • President of the County Board
Răducu George Filipescu (National Liberal Party)
 • Prefect2
Doru-Ioan Tărăcilă
Area
 • Total
5,088 km2 (1,964 sq mi)
Population (2002)
 • Total
324,617
 • Density
64/km2 (170/sq mi)
Time zone
EET (UTC+2)
 • Summer (DST)
EEST (UTC+3)
Postal Code
91wxyz3
Area code(s)
+40 x424
Car Plates
CL5
GDP
US$ 2.09 billion (2008)
GDP/capita
US$ 6,446 (2008)
Website
County Board
County Prefecture
1The development regions of Romania have no administrative role. They were formed as a way of managing funds from the European Union
2 as of 2007, the Prefect is not a politician, but a public functionary. He (or she) is not allowed to be a member of a political party, and is banned from having any political activity in the first six months after resigning (or being excluded) from the public functionary corps
3w, x, y, and z are digits that indicate the city, the street, part of the street, or even the building of the address
4x is a digit indicating the operator: 2 for the former national operator, Romtelecom, and 3 for the other ground telephone networks
5used on both the plates of the vehicles that operate only in the county limits (like utility vehicles, ATVs, etc.), and the ones used outside the county
Călăraşi (Romanian pronunciation: [kələˈraʃʲ]) is a county (judeţ) of Romania, in Muntenia, with the county seat at Călăraşi.
In 2002, it had a population of 324,617 and a population density of 64/km².
| Year | County population[2] |
| --- | --- |
| 1948 | 287,722 |
| 1956 | 318,573 |
| 1966 | 337,261 |
| 1977 | 338,807 |
| 1992 | 338,804 |
| 2002 | 324,617 |
List of cities by population
[
edit
|
edit source
]
All the data, except Călărași, is as of 2002.
The other two towns of Călărași county(Lehliu-Gara and Fundulea) are having a population under 8,000 inhabitants.
This county has an area of 5,088 km².
The entire area lies the south part of the Bărăgan Plain and is crossed by small rivers with deep valleys. On its southern and eastern sides there is the valley of the Danube which, on the eastern side, splits into a number of branches, forming islands, now drained. On the western side, the rivers Argeş and Dâmboviţa form a wide valley before flowing into the Danube.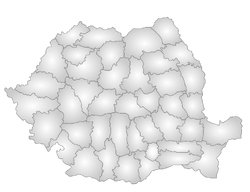 Agriculture is the county's main industry, generating about 3% of the entire country's agricultural output.
The county's industries:
The main tourist destinantion:
Călăraşi County has 2 municipalities, 3 towns and 50 communes
Community content is available under
CC-BY-SA
unless otherwise noted.