Burnetta Collings Allphin was born 27 November 1818 in Clark County, Indiana, United States to Benjamin Collings (1792-1862) and Phoebe Broady (1794-1874) and died 27 July 1874 Pine Valley, Washington County, Utah, United States of unspecified causes. She married Israel Dodge Allphin (1814-1903) 5 September 1833 in Payson, Adams County, Illinois, United States.
In 1857 they started for Salt Lake City in company with John Henry Moody, a Brother Collins, a Brother Dameron and others.
After many trials and hardships they reached Salt Lake Valley in 1858. The same year Israel married Susan E. Dameron Coldiron as a plural wife whose husband, William Coldiron, had died crossing the plains. She had two children by her first marriage.
Israel and his two families lived for several years in Salt Lake, but was later called to settle the Dixie Country, as it was called. He moved his families to Pine Valley, Utah in 1862. A saw mill was built on the Santa Clara Creek where he was employed and to which place he moved his families.
One night after all the camp had retired, a cloud burst caused a flood in the narrow valley. Hearing the terrible roar of the coming flood Israel helped his first family to safety, then rushed to the rescue of his other family. He was carrying a small child and his wife was carrying the baby. The other children were following when the flood overtook them. Israel, making the child safe, rushed back to save the others.
In the meantime a loose log from the floating house had knocked the baby from Susan's arms. It floated down the stream as did the other children and were drowned. Israel rescued his wife, Susan, from the floating log. The next day two children were found and several days later the other two were found hanging from the tops of some tall trees. All were buried in the same grave in Pine Valley.
Following this incident Burnetta, Israel's first wife, moved to Salt Lake City and lived a time with a married son. When Israel had built two good homes in Pine Valley, Burnetta returned. The two families lived for several years in Pine Valley until Burnetta's death in 1871.
Children
Siblings
Residences
Vital Records
Utah Gravestone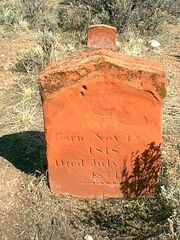 See Also
Burnetta Collings

Collings in Washington County, Utah

Collings in Clark County, Indiana
Footnotes (including sources)