Bristol County is a county located in the Commonwealth of Massachusetts, adjacent to the state of Rhode Island. As of the 2010 census, the population was 548,285. Some governmental functions are performed by the Commonwealth of Massachusetts, others by the county, and others by local towns and cities. See Administrative divisions of Massachusetts. Despite multiple seats being displayed on some maps, the formal county seat is Taunton[1]; Fall River and New Bedford are not county seats, but there are some courthouses and other county-operated facilities in those two places. The property deed records are kept in Taunton, Attleboro, Fall River, and New Bedford. The adjacent counties are Plymouth County, Norfolk County, Bristol County, Rhode Island, Newport County, Rhode Island, Providence County, Rhode Island, and Dukes County.
The county offices are located in the Taunton County Building in Taunton at the Taunton Green.
Maria Lopes—Chairperson of County Commission
Paul B. Kitchen—County Commissioner
John R. Mitchell—County Commissioner
C. Samuel Sutter—District Attorney
Thomas M. Hodgson—Sheriff
Christopher T. Saunders—County Treasurer
Barry Amaral—Register of Deeds, Northern District
Bernard McDonald—Register of Deeds, Fall River District
J. Mark Treadup—Register of Deeds, Southern District
Marc Santos—Clerk of Courts
Voter Registration and Party Enrollment as of October 13, 2010[3]
Party
Number of Voters
Percentage
 
Democratic
129,735
37.32%
 
Republican
35,469
10.20%
 
Unaffiliated
180,285
51.86%
 
Minor Parties
2,121
0.61%
Total
347,610
100%
Bristol County was created by the Plymouth Colony on June 2, 1685,[4] and named after its "shire town" (county seat), Bristol.[5] The Plymouth Colony merged into the Massachusetts Bay Colony in 1691.
The towns of Bristol, Barrington, and Warren were awarded to Rhode Island in 1746 as part of a long-running boundary dispute (see History of Massachusetts), forming Bristol County, Rhode Island. At the same time, Cumberland, Rhode Island was carved out of Attleborough, Massachusetts and annexed to Providence County, Rhode Island; Tiverton and Little Compton were transferred to Newport County, Rhode Island. East Freetown was officially purchased by Freetown, Massachusetts, from Tiverton in 1747, and so remained on the Massachusetts side.
After the departure of Bristol, Taunton was made the capital of the county. A second county courthouse was constructed in 1828 in the growing town of New Bedford (designed a "half-shire town"). In 1862, part of Seekonk (now East Providence, Rhode Island) and the entirety of East Pawtucket were transferred to Providence County, Rhode Island. At the same time, land ceded from Rhode Island was added to Fall River and Westport. The growing Fall River became the site of the third county courthouse in 1877.[5]
According to the 2000 census, the county has a total area of 691.19 square miles (1,790.2 km2), of which 556.00 square miles (1,440.0 km2) (or 80.44%) is land and 135.19 square miles (350.1 km2) (or 19.56%) is water.[6] The highest point in Bristol County is Sunrise Hill (Watery Hill) at 390 feet (120 m) above sea level located in World War I Memorial Park in North Attleborough. It is also to note that Bristol, Plymouth and Taunton are all places in South West England. Their Massachusetts cousins were named after the originals as South West England was the focal point for sailing and descovery at the time of Americas discovery. John Cabot set sail from Bristol and sailed down the Severn on which lies Newport over in Wales. He then stumbled across mainland U.S.A.
To the south, Dukes County, Massachusetts is opposite Buzzards Bay from Bristol County. The border with Bristol County, Rhode Island is rather unusual since the counties both share the same name. The only other instances in which two neighboring counties with the same name share a state border are Sabine County, Texas and Sabine Parish, Louisiana, Union County, Arkansas and Union Parish, Louisiana, and Escambia County, Alabama and Escambia County, Florida respectively.
Historical populations
Census
Pop.
%±
1790
31,696

—

1800
33,880

6.9

%
1810
37,168

9.7

%
1820
40,908

10.1

%
1830
49,592

21.2

%
1840
60,164

21.3

%
1850
76,192

26.6

%
1860
93,794

23.1

%
1870
102,886

9.7

%
1880
139,040

35.1

%
1890
186,465

34.1

%
1900
252,029

35.2

%
1910
318,573

26.4

%
1920
359,005

12.7

%
1930
364,590

1.6

%
1940
364,637

0

%
1950
381,569

4.6

%
1960
398,488

4.4

%
1970
444,301

11.5

%
1980
474,641

6.8

%
1990
506,325

6.7

%
2000
534,678

5.6

%
2010
548,285

2.5

%
[7][8][9]
As of the census[10] of 2000, there were 534,678 people, 205,411 households, and 140,706 families residing in the county. The population density was 962 people per square mile (371/km²). There were 216,918 housing units at an average density of 390 per square mile (151/km²). The racial makeup of the county was 90.98% White, 2.03% Black or African American, 0.24% Native American, 1.26% Asian, 0.03% Pacific Islander, 3.12% from other races, and 2.34% from two or more races. 3.60% of the population was Hispanic or Latino of any race. 29.7% were of Portuguese, 13.0% Irish, 8.9% French, 8.2% English, 6.8% Italian and 6.4% French Canadian ancestry according to Census 2000. 79.1% spoke English, 13.9% Portuguese, 2.9% Spanish and 1.6% French as their first language. The United States Census Bureau reported Bristol County as being one of two counties in the United States with a plurality of people of Portuguese ancestry (the other being the contiguous Bristol County Rhode Island).
There were 205,411 households out of which 33.00% had children under the age of 18 living with them, 51.60% were married couples living together, 13.00% had a female householder with no husband present, and 31.50% were non-families. 26.50% of all households were made up of individuals and 11.00% had someone living alone who was 65 years of age or older. The average household size was 2.54 and the average family size was 3.08.
In the county the population was spread out with 24.60% under the age of 18, 8.50% from 18 to 24, 30.50% from 25 to 44, 22.20% from 45 to 64, and 14.10% who were 65 years of age or older. The median age was 37 years. For every 100 females there were 92.40 males. For every 100 females age 18 and over, there were 88.50 males.
The median income for a household in the county was $43,496, and the median income for a family was $53,733. Males had a median income of $39,361 versus $27,516 for females. The per capita income for the county was $20,978. About 7.80% of families and 10.00% of the population were below the poverty line, including 13.00% of those under age 18 and 12.00% of that age 65 or over.
Transportation authorities providing public bus service include the Greater Attleboro Taunton Regional Transit Authority; and the Southeastern Regional Transit Authority serving the Fall River and New Bedford areas.
Airports include the Mansfield Municipal Airport, Myricks Airport, New Bedford Municipal Airport and Taunton Municipal Airport; of these, the New Bedford airport is a commercial airport, with flights serving the Cape Cod, Nantucket and Martha's Vineyard area.
The Providence/Stoughton Line of the MBTA commuter rail has stops in Mansfield, Attleboro, and South Attleboro. The line provides connections to Providence and Boston (at Back Bay Station and South Station), as well as intermediate stops. An extension has been completed that connects to T.F. Green Airport.
Cities, towns, and villages*
[
edit
|
edit source
]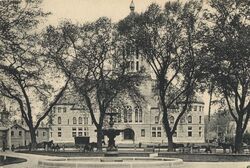 * Villages are census division, but have no separate corporate existence from the towns they are in.
History of Bristol County, Massachusetts with Biographical Sketches of many of its Pioneers and Prominent Men, Part 1 edited by Duane Hamilton Hurd. J.W. Lewis and Co., 1883. [2]
A history of Bristol County, Massachusetts, Volume 1 by Frank Walcott Hutt. Lewis Historical Pub. Co., Inc., 1924.

Wikimedia Commons has media related to:
Coordinates: 41°45′N 71°05′W / 41.75, -71.09
Community content is available under
CC-BY-SA
unless otherwise noted.