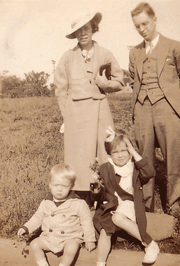 Benjamin Spenser Van Deusen II (1903-1972) Banker (b. April 28, 1903, Albany, Albany County, New York, USA - d. March 17, 1972, Palm Bay, Brevard County, Florida, 32905, USA) Social Security Number 155127555.
Benjamin was born in 1903 in Albany, New York to Benjamin Spenser Van Deusen I (1872-1937) a real estate agent, and Lynette Mae Curlhair (1872-1942).
In 1900 the family was living in Union, Broome County, New York and appear in the census as "Van Densen".
In 1910 the family was living at 440 Washington Avenue, Albany, Albany County, New York.
Around 1922 the family moved to Jersey City, New Jersey.
Ben married Helene Elizabeth Bentley (1905-1999) around 1928
They had two children: Marjorie Van Deusen (1928-1987) Richardson and Richard Burnett Van Deusen (1931-2009).
Ben moved from Jersey City to Union, New Jersey and was in the process of moving to Florida when he died.
Community content is available under
CC-BY-SA
unless otherwise noted.