Biography
Benjamin Franklin Mathews was born 16 April 1819 in Chattanooga, Hamilton County, Tennessee, United States to Thomas Mathews (1783-1837) and Jane McDavid (1788-1836) and died 18 August 1888 Devil Canyon, San Bernardino County, California, United States of unspecified causes. He married Temperance Weeks (1817-1859) 1834 in Franklin County, Tennessee. He married Mahala Ann Whiteman (1843-1910) 1866 in Utah.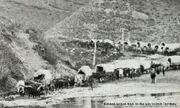 Numbered amoung the participants in the Mississippi Saints 1846 Pioneer Company, a early Mormon pioneer wagon train that left Mississippi in 1846 to join the Mormon exodus to Utah. This group Brigham Young's vanguard company and spent the winter of 1846/47 at Fort Pueblo where the were joined by soldiers of the sick detachment of the Mormon Battalion. They reached Salt Lake City in late summer of 1847.
Pioneers of the West
The Mathews family stayed initially Utah for a year, but then joined the Gold Rush in Yuba County, California where daughter Elvina was born. Then the family settled in the Mormon Colony at San Bernardino, California, even staying there well beyond the 1859 whenever others returned to Utah.
Marriage and Family
Baby Weeks Mathews (1835-1835) - died young in Alabama
Baby Weeks Mathews (1837-1837) - died young in Alabama?
Sarah Jane Mathews (1840-1934) - 1846 Pioneer Trek
Baby Weeks Mathews (1841-1841) - died young im Mississippi?
Mary Elizabeth Mathews (1842-1912) - 1846 Pioneer Trek
Baby Weeks Mathews (1843-1843) - died young in Mississippi?
Sallie Mathews (1845-1887) - 1846 pioneer trek
Thomas Jeptha Mathews (1847-1904) - born in Wyoming during 1846/47 Pioneer Trek

Benjamin Franklin Mathews (1855-1936)

- One of these is in error

Benjamin Newton Mathews (1855-1927)

- One of these is in error
Children
Offspring of Benjamin Franklin Mathews and Temperance Weeks (1817-1859)
Name
Birth
Death
Joined with
Baby Weeks Mathews (1835-1835)
1835 Marion County, Alabama, United States
1835 Alabama, United States


Baby Weeks Mathews (1837-1837)
1837 Marion County, Alabama, United States
1837 Alabama, United States


Sarah Jane Mathews (1840-1934)
4 October 1840

Mooreville

, Lee County, Mississippi, United States
6 June 1934 Glendale, Los Angeles County, California, United States
Theophilus Katen Robey (1834-1923) 

Theophilus Katen Robey (1834-1923)

 

Joseph Samuel Hewitt (1845-1900)



Baby Weeks Mathews (1841-1841)
1841 Lee County, Mississippi, United States
1841 Lee County, Mississippi, United States


Mary Elizabeth Mathews (1842-1912)
6 July 1842 Mississippi, United States
13 November 1912 Richmond, Cache County, Utah, United States
James Allen (1833-1890)

Baby Weeks Mathews (1843-1843)
1843 Lee County, Mississippi, United States
1843 Lee County, Mississippi, United States


Sallie Mathews (1845-1887)
26 October 1845 Monroe County, Mississippi, United States
21 December 1887 San Bernardino, San Bernardino County, California, United States
William Thomas Sparks (1843-1906)

Thomas Jeptha Mathews (1847-1904)
3 March 1847 Natrona County, Wyoming, United States
15 August 1904

Devil Canyon

, San Bernardino County, California, United States
Asenath Cecelia Dustin (1850-1943)

Celeta Adeline Mathews (1849-1918)
20 May 1849 Utah, United States
2 October 1918 Los Angeles, Los Angeles County, California, United States
William Henry Ormsby (1842-1881) 

William Henry Ormsby (1842-1881)

 

Charles Baker (1855-)



Elvina Mathews (1851-1860)
December 1851 Yuba County, California, United States
1860 United States


Martha Ellen Mathews (1854-1921)
24 March 1854 San Bernardino, San Bernardino County, California, United States
28 December 1921 Oakland, Alameda County, California, United States

John Patrick O'Connell (c1850-)

 

Alexander Whiteman (1856-1877)

 

John Patrick O'Connell (c1850-)

 

Alexander Whiteman (1856-1877)

 

Chester Mero (1840-1913)




Benjamin Franklin Mathews (1855-1936)




Benjamin Newton Mathews (1855-1927)
Offspring of Benjamin Franklin Mathews and Mahala Ann Whiteman (1843-1910)
Name
Birth
Death
Joined with
Robert Lee Mathews (1867-1923)
22 September 1867 San Bernardino, San Bernardino County, California, United States
29 January 1923 San Bernardino, San Bernardino County, California, United States
Josephine Johnson (1866-1925)


John David Mathews (1870-1944)




Reuben Alexander Mathews (1872-1937)



William Jesse Mathews (1876-1876)
12 March 1876 San Bernardino, San Bernardino County, California, United States
13 October 1876 San Bernardino, San Bernardino County, California, United States



Anna Mathews (1878-1917)




Alma Ethel Bloom Mathews (1885-1975)
Siblings
Residences
Legacy
See Also
Benjamin Mathews

Mathews in Franklin County, Tennessee
Footnotes (including sources)