Appomattox County is a county located in the U.S. state — officially, "Commonwealth" — of Virginia. As of the 2000 census, the population was 13,705. Its county seat is Appomattox6. For a long time, Appomattox was a prohibition or dry county. However, a law has recently been passed to permit the sale of alcohol.
Appomattox County was formed in 1845 from Buckingham, Prince Edward, Campbell and Charlotte Counties. In 1848, another part of Campbell County was added. It was named for the Appomattox River. On April 9, 1865, Confederate General Robert E. Lee met with Union General Ulysses S. Grant at Appomattox Court House. The surrender of Lee took place at the McLean House, home of Wilmer McLean.
According to the U.S. Census Bureau, the county has a total area of 867 km² (335 mi²). 864 km² (334 mi²) of it is land and 3 km² (1 mi²) of it is water. The total area is 0.31% water.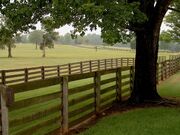 As of the census2 of 2000, there are 13,705 people, 5,322 households, and 4,012 families residing in the county. The population density is 16/km² (41/mi²). There are 5,828 housing units at an average density of 7/km² (18/mi²). The racial makeup of the county is 75.94% White, 22.91% Black or African American, 0.13% Native American, 0.17% Asian, 0.02% Pacific Islander, 0.26% from other races, and 0.56% from two or more races. 0.47% of the population are Hispanic or Latino of any race.
There are 5,322 households out of which 32.20% have children under the age of 18 living with them, 59.70% are married couples living together, 11.50% have a female householder with no husband present, and 24.60% are non-families. 21.30% of all households are made up of individuals and 10.00% have someone living alone who is 65 years of age or older. The average household size is 2.55 and the average family size is 2.94.
In the county, the population is spread out with 24.70% under the age of 18, 7.10% from 18 to 24, 27.80% from 25 to 44, 25.60% from 45 to 64, and 14.80% who are 65 years of age or older. The median age is 39 years. For every 100 females there are 94.80 males. For every 100 females age 18 and over, there are 91.10 males.
The median income for a household in the county is $36,507, and the median income for a family is $41,563. Males have a median income of $31,428 versus $21,367 for females. The per capita income for the county is $18,086. 11.40% of the population and 8.70% of families are below the poverty line. Out of the total population, 14.10% of those under the age of 18 and 21.50% of those 65 and older are living below the poverty line.
Coordinates: 37°22′N 78°49′W / 37.37, -78.81
Community content is available under
CC-BY-SA
unless otherwise noted.