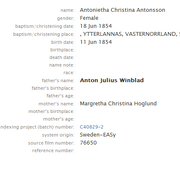 Antonette Kristina Winblad II (1854-?) aka Kristina Winblad. She never married or had any children. (b. June 11, 1854, Ytterlännäs, Sweden - d. after 1900, Anundsjö, Sweden)
Antonette Kristina Winblad I (1853); and Johanna Maria Winblad (1853), their twin daughters were born. Johanna died on June 30, 1853; and Antonette died on July 18, 1853.
When Anton returned from Härnösand, he began a courtship of Elsa Maria Elisabeth Näslund (1829-1907). Elsa's father was Israel Israelsson Näslund III (1796-1858) the reverend of Ytterlännäs. Anton and Elsa married on August 07, 1855 in Ytterlännäs.
Karl Israel Winblad (1857-1858) who was born on September 12, 1857, and died as an infant on September 19, 1858; Johan Edvard Winblad (1856-1914) aka John Edward Winblad who ran away from home rather than become a priest and married Salmine Sophia Severine Pedersen (1862-1914) aka Salmina Olsdatter, in Norway and emigrated to the United States; Johanna Maria Winblad (1859-1916) who married Per Olof Bernhard Vahlberg (1852-aft1890); Carl Gustaf Winblad (1861-1863) aka Gustaf Winblad, who was born on April 10, 1861, and died as an infant on March 06, 1863; Anton Teodor Winblad (1862-?) who was born on December 07, 1862 and he became a Lieutenant in the military; Maria Elisabeth Winblad II (1865-1937) who married the storekeeper, Jonas Kempe (1861-1918), and had children and grandchildren; and Frideborg Winblad (1869-1964) who was born in Anundsjö and never married, and became a teacher in Ytterlännäs.
She was buried in Anundsjö Kyrkogård. The grave plot is 'GA' and the number '61-64'." The plot contains:
Antonette Kristina Winblad II (1854-?) was buried under the name "Kristina Winblad", but the date of her death was not recorded.
Lennart Haglund (1928) writes on July 10, 2005: "I had a phone call from Anundsjö this morning, an answer to my earlier question about A.J. Winblad. His grave is there and will be preserved for the future (due to a decision from 1955), as it is situated close to the church and part of its "milieu". At least the stone will not be moved. A.J. Winblad is buried there and so is his wife (hustru) and daughter (dotter). A 'Fridborg Winblad' was mentioned, maybe an early burial. The last known 'grave rights holder' was a Frideborg Winblad, a 'rektor' (headmaster or principal) from Härnösand, not far from Ytterlännäs. She is also buried there, if I remember, in 1964. The grave plot is 'GA' and the number '61-64'."
Community content is available under
CC-BY-SA
unless otherwise noted.