Antónia de Gérando was born 13 February 1844 in Paris, France to Auguste de Gérando (1819-1849) and Emma Teleki de Szék (1809-1893) and died 9 April 1914 Kolozsvár, Cluj County, Transylvania, Austria-Hungary of unspecified causes.
Born in Paris in 1845, she settled with her parents in Budapest. As the family had been involved in the Hungarian Revolution of 1848 her mother, Emma Teleki de Szék (1809-1893) was forced to flee to France. Antonina studied in France and was able to obtain a degree in education.
She visited Hungary briefly in 1865 and 1867 but moved to Budapest only in 1872, after the Franco-Prussian war.
In Budapest she first gave private lessons to children of well-off parents. In 1876 she opened a private school.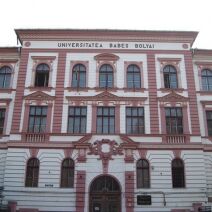 Having excellent credentials, in 1880 she was called to Kolozsvár (now Cluj-Napoca, Cluj County, Romania) to head the newly founded girls high-school. She was director of the school until her death, except for 1891-1892, when she took a sabbatical leave to take care of her sick mother.
In 1900, a new building was constructed for the girls high school, designed by architect Ignác Alpár (1855-1929). At present, the building houses the Faculty of Chemistry of the Babeş-Bolyai University.
References
Jean Houssaye - Femmes pédagogues - Tome 1 : de l'Antiquité au XIXe siècle - Fabert 2008 ISBN 978-2-84922-041-2
KEREZSTY, Orsolya, Eötvös Loránd University, Hungary: Promoting women's education both practically and theoretically The life and works of Antonina De Gerando - Single Women in History 1000-2000
[http://www.rmpsz.ro/web/images/magiszter/2007_osztel/12.pdf Kereszty Orsolya - A nők középfokú oktatása
a kolozsvári községi/állami felsőbb leányiskolában a dualizmus kori Magyarországon1]]
Residences
Footnotes (including sources)